The Regulation of the Legal Profession in Ireland is a new and insightful exploration of history, controversy and reform relating to the Irish legal system. During recent legislative debate over a professional reform bill, Alan Shatter — then the Minister of Justice in Ireland — publicly called this study, in its earlier form as a dissertation, "marvellous" and stated that it "should be compulsory reading for us all." He noted that the thesis "sets out the history of the legal profession and how it evolved. It evolved continually until approximately 1870 and then went into paralysis and nothing has changed since. … It is extraordinarily curious that people think the world stopped in 1870."
Professor Laurent Pech, formerly of the School of Law at NUI Galway and now Head of the Law Department at Middlesex University London, has stated that this study "makes a decisive contribution to the on-going scholarly and policy debates on this issue, by evaluating the present regulatory framework and offering a number of suggestions to improve it in a context of increasing transnationalisation of the market for legal services." He added that Hosier's "innovative approach to the problem of lawyers' misconduct is, in particular, worth noting. This aspect of her work has the potential to help alleviate a problem which has been extremely costly for both the legal profession and wider society alike. Her doctoral research also provides a valuable insight into the impact of the Troika upon the regulation of the legal profession in so-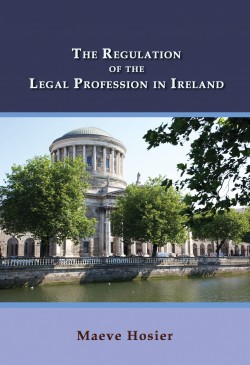 called 'bailed-out countries.'" Professor Pech concluded that the author "should be congratulated for having made an exceptional contribution to the current debate on the regulation of the legal profession both nationally and internationally. I have no doubt that her original and thought-provoking work will be useful to policy-makers and scholars alike."
This book features Professor John Flood's new, substantive introduction, explaining the worldwide implications of professional reform efforts, the financial crisis that precipitated them, and the relation to regulation of the legal profession in other countries. It also includes the author's notable examination of the effect of the Troika's bailout conditions on law reform possibilities in Ireland. This part of the book was presented in the U.S. at the 2013 annual conference of the Law & Society Association. Finally, the book adds a section on 2014 developments in reform efforts in Ireland.
Part of the Dissertation Series from Quid Pro Books.
Available in paperback edition: See it at such booksellers as Amazon.com, our QP eStore page (fulfilled securely by Amazon), Barnes & Noble, BooksAMillion, YBP Library Services, and Ingram catalog. Also available at Amazon UK and other country-specific online retailers.
Also available in leading digital formats:
Kindle edition, at Amazon.
NOOKBook, at Barnes & Noble.
At Apple iBooks and iTunes (see it directly on iPad and iPhone bookstores; previewed online).
At Google Play and Google Books.
And in universal ePUB at Smashwords; look for it, too, at Kobobooks in ePUB format.
…
Cataloging: The Regulation of the Legal Profession in Ireland
Author: Maeve Hosier
ISBN 978-1-61027-257-5 (pbk)
ISBN 978-1-61027-259-9 (ebk)
List price: US $9.99 (eBook) / $31.99 (paperback)
Page count: 322 pp.