Will anyone ever know what happened to the Aloha, a sport fishing boat that vanished with all onboard in the Pacific off San Francisco's coast? 'Knowing' may be a complex, inexact business. There's real truth and then there's courtroom truth; a jury's verdict may or may not approach what actually happened. Nor can someone reading about such an event—one that had no witnesses or hard evidence to explain it—be sure where the truth lies. But trials, judges, and juries are what we use in our legal system to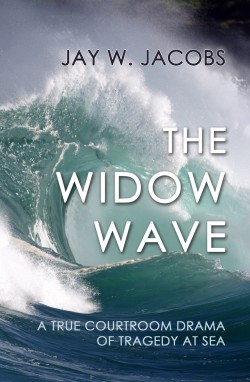 find truth.
The Widow Wave explores this alternate reality. It is a fascinating true-life mystery and lawyer procedural rolled into one. Jay Jacobs offers no facile answers—and he's not the flawless protagonist typically starring in such dramas. He lets us see how such a big wrongful death case really unfolds, in a true story that reads like a novel. Will the jury find the truth? Will the reader?
"An intelligently told true story of honor, integrity and justice. The Widow Wave reminded me of The Perfect Storm, played out in a taut courtroom thriller. Jay Jacobs masterfully weaves the harrowing tale of the last voyage of the Aloha, and courtroom battle that followed. A great read."
— Robert Dugoni, New York Times Bestselling Author of My Sister's Grave
"A compelling story of a modern day maritime tragedy that beautifully discusses the vital importance of advances in observational technologies, forecasts and communications in avoiding future loss of life at sea. Jacobs skillfully weaves together the legal, scientific and maritime narratives to enthrall and educate the reader."
— Julie Thomas, Scripps Institution of Oceanography, Manager of the Institute of Geo and Planetary Physics
"Trial lawyer Jay Jacobs, in a unique, personally revealing memoir, defends a widow and her deceased husband's honor in an intimate first person account of how the civil trial process unfolds…. The reader will learn about the strategies, shoals, and embroilments of a real life, vigorously contested trial with its many emotional upheavals."
— Justice James Marchiano (ret.), formerly Presiding Justice, California Court of Appeals, First Appellate District
See the complete review in BOATING magazine: "Give The Widow Wave a read. If you own a boat, there is much to recommend it." Also reviewed (ravely) by The Tennessee Bar Journal here: "In short, this book is a great excursion into a real trial wrapped into all the trappings of real trial lawyers who, even though they are at the height of their professional acumen, still agonize over decisions they must make during trial and the impact they will have on the sacred trust to protect the client's interests. No work of fiction can ever beat that." More on the author's life at sea and at law: www.jaywjacobs.com.
Available in paperback edition:
See it at such booksellers as Amazon.com, our QP eStore page (fulfilled securely by Amazon), Barnes & Noble online (or ask at stores), BooksAMillion.com, YBP Library Services, and Ingram catalog. (Country-specific Amazon sites include Amazon UK.)
Available in library-quality hardcover edition:
See it at such retailers as Amazon.com, Barnes & Noble, BooksAMillion, YBP, and Ingram.
Also available in leading digital formats:
Kindle edition, at Amazon.
NOOKbook, at Barnes & Noble.
At Apple iBooks and iTunes (see it directly on iPad and iPhone bookstores; previewed online).
At Google Play and Google Books.
And in universal ePUB format at Smashwords; also, at Kobobooks in ePUB format.
…
Cataloging: THE WIDOW WAVE: A True Courtroom Drama of Tragedy at Sea
Author: Jay W. Jacobs
ISBN 978-1-61027-805-8 (trade paperback, 6″x9″; 2016 printing)
ISBN 978-1-61027-262-9  (mass paperback, 2014 printing [same content and pagination])
ISBN 978-1-61027-273-5 (hardcover: clothbound, with jacket)
ISBN 978-1-61027-263-6 (ePUB ebook format)
ASIN B00MUE1FX0 (Kindle ebook format)
List price: US $17.99 (pbk) / $7.99 (ebk) / $32.99 (hardcover)
Page count: 263 pp.; published September 1, 2014