Princeton political scientist Walter Murphy analyzed the role of Congress in trying to manage an activist Supreme Court at a time of seismic change in the law and evolving interplay between these powerful institutions. As the original dustjacket offered, this is a "first-rate assessment of the delicate balance of power between Congress and the Supreme Court as it affects the American political process."
The new republication of this classic work adds a 2014 Foreword by law professor Thomas Baker, who notes the continuing relevance of Murphy's insights: "The principal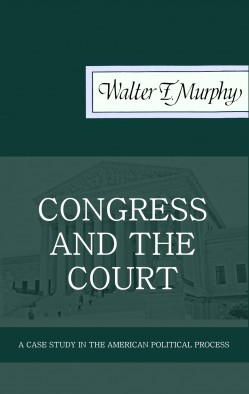 object lesson he offers is that what happened in the 1950s happened before and will happen again, that separation of powers showdowns are cyclical." In sum, "This book was recognized immediately upon publication as an important contribution to the literature on separation of powers and in particular the constitutional dynamic between Congress and the Court." It "continues to enjoy in the canon of constitutional law" a recognized status, to both legal academics and political scientists, as Baker explains in his contemporary introduction.
The new digital edition presents the original text and tables accurately and properly formatted as an ebook; it features active contents, linked chapter footnotes and endnotes, and even a fully-linked Index for continuity with the original print edition. Originally published by the University of Chicago Press, this is an authorized and unabridged new addition to the Classics of Law & Society Series from Quid Pro Books.
Available in new paperback edition at such retailers as Amazon.com, our QP eStore page (fulfilled securely by Amazon), Barnes & Noble, BooksAMillion, YBP Library Services, and Ingram.
Available in leading digital formats:
Kindle edition, at Amazon.
NOOKBook, at Barnes & Noble.
At Apple iBooks and iTunes (see it on iPad and iPhone bookstores; previewed online).
At Google Play and Google Books.
And at Smashwords and Kobobooks in ePUB format.
…
Cataloging: Congress and the Court: A Case Study in the American Political Process
Author: Walter F. Murphy
ISBN 978-1-61027-266-7 (paperback); list price $31.99
ISBN 978-1-61027-268-1 (eBook); list price $8.99
Page count: 290 pp.
Published: October 25, 2014