In the fall of 1846, young medical student Adolph Pinto witnesses a demonstration of anesthesia and sets off on a lifelong quest to bring "life without pain" to the masses. A darkly comic and sweeping novel in which Pinto endures every tribulation with hope.
This ironic comedy by the author of the acclaimed Leib Goldkorn series and King of the Jews follows Pinto, a Hungarian Jew and former medical student, who takes the wrong ship and winds up out West during the craze of the California Gold Rush. Never discouraged, he tries to bring scientific enlightenment to a band of boys from the local Modoc Indian tribe. But strikes and explosions erupt at the nearby gold mine where the Modocs have been enslaved, turning his attempt at utopia into Dante's hell.
Originally published by Houghton Mifflin and, in paperback, by W.W. Norton, the book is now Digitally Remastered™ and available as an ebook in all leading formats. A new addition to the QP Books fiction series from Quid Pro Books. (All of QP's 20+ titles in fiction are collected here.)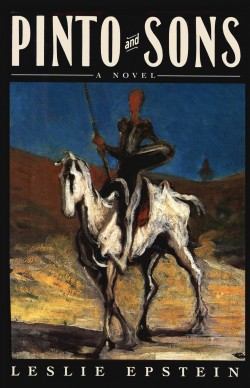 "A greathearted saga of ambition, hope and loss… Pinto and Sons is a fantastic epic of the heroic age of applied science, a fit book to put on the shelf with the great tall tales of American expansion…. Only lengthy quotation would do justice to the hilarity, the excitement, the passion of this enterprise."
— New York Times Book Review
"A wild wacky, wonderful novel…. The wonderful affirmation of this novel gives it its final power."
— Kevin Starr, Boston Globe
Available in quality eBook formats:

Kindle edition, at Amazon.
NOOKBook, at Barnes & Noble.
At Google Play app, and more generally at Google Books.
At Apple iBooks and iTunes (search it direct on iPad and iPhone bookstores, previewed online).
In universal ePUB format at Smashwords, and look for it at such ebookstores as Kobobooks.
…
About the author:
Leslie Epstein is the author of eleven books of fiction, including the 2012 novel Liebestod, and as a Professor of English at Boston University, he has served as director of the creative writing program.
Cataloging, Pinto and Sons:
ISBN 978-1-61027-270-4 (ePUB)
ASIN B00NQOF0T8 (Kindle)
list price $7.99