The third issue of 2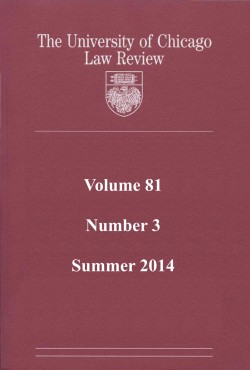 014 features articles from recognized legal scholars. Contents include:
Articles:
* Following Lower-Court Precedent, by Aaron-Andrew P. Bruhl
* Constitutional Outliers, by Justin Driver
* Intellectual Property versus Prizes: Reframing the Debate, by Benjamin N. Roin
Book Review:
* The Text, the Whole Text, and Nothing but the Text, So Help Me God: Un-Writing Amar's Unwritten Constitution, by Michael Stokes Paulsen
Comments:
* Standing on Ceremony: Can Lead Plaintiffs Claim Injury from Securities That They Did Not Purchase?, by Corey K. Brady
* FISA's Fuzzy Line between Domestic and International Terrorism, by Nick Harper
* The Perceived Intrusiveness of Searching Electronic Devices at the Border: An Empirical Study, by Matthew B. Kugler
* Comcast Corp v Behrend and Chaos on the Ground, by Alex Parkinson
* Maybe Once, Maybe Twice: Using the Rule of Lenity to Determine Whether 18 USC 924(c) Defines One Crime or Two, by F. Italia Patti
* Let's Be Reasonable: Controlling Self-Help Discovery in False Claims Act Suits, by Stephen M. Payne
* A Dispute Over Bona Fide Disputes in Involuntary Bankruptcy Proceedings, by Steven J. Winkelman
The University of Chicago Law Review first appeared in 1933, thirty-one years after the Law School offered its first classes. Since then the Law Review has continued to serve as a forum for the expression of ideas of leading professors, judges, and practitioners, as well as students, and as a training ground for University of Chicago Law School students, who serve as its editors and contribute Comments and other research. Principal articles and essays are authored by accomplished legal and economics scholars. Quality ebook formatting includes active TOC, linked notes, active URLs in notes, and all the charts, tables, and formulae found in the original print version.
Available in print from the University of Chicago Law Review, the summer 2014 issue is also Digitally Remastered™ and available as an ebook in all leading formats. (All of QP's previous digital editions of this law review are collected here.)
Kindle edition, at Amazon.
NOOKBook, at Barnes & Noble.
At Google Play app, and more generally at Google Books.
At Apple iBooks and iTunes (search it direct on iPad and iPhone bookstores, previewed online).
In universal ePUB format at Smashwords, and look for it at such sites as Axis 360 and Kobobooks.
…
Cataloging, Volume 81, Issue 3 (summer 2014):
ISBN 978-1-61027-850-8 (ebook edition)
list price $1.99