Frank May is back and more hesitant than ever to get involved. But a mystery finds him anyway, too bizarre for him to ignore. Many people believe in life after death, but how many believe in murder after death? Or at least the revelation of a murder from a dead mother?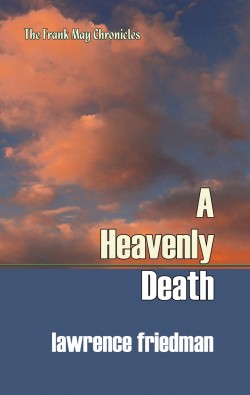 Frank's rich client Morris Gross firmly believes he had an out-of-body experience and went to heaven, where he met his dead mother. She makes the startling statement that somebody killed her—that she didn't die a natural death like everyone thought.
Morris freely shares his story with a polite but skeptical Frank May. If that isn't strange enough, Morris soon joins his mother—thanks to the bullet from a murderer's pistol. Now Frank has to deal with the estate of a murder victim, who may have been killed by someone who also dispatched his late mother. He also has to deal with the sometimes greedy, and always eccentric, heirs to Morris's fortune. Led by the free-living nephew Sebastian, the family confounds Frank and tests his patience, all while he strives to uncover the truth about the mother's death . . . so he can solve the mystery of her son's murder. It may be just one loose thread too many for the lawyer-turned-reluctant-detective to spin together into a fabric that makes sense.
A new QP Mystery, in the series 
The Frank May Chronicles
. See others in the series 
here
. See 
this recent story
in
Palo Alto Weekly
about Lawrence Friedman's fiction writing, Quid Pro Books, and the Frank May series.
Available in paperback: See it at Amazon.com, our QP eStore page for this book (fulfilled securely by Amazon), Barnes & Noble online, BooksAMillion, YBP Library Services, and Ingram.
Also available in leading eBook editions:
At Apple iBooks and iTunes bookstore, direct on iPad and iPhone (previewed online).
At Google Play, and more generally Google Books, as are all of Professor Friedman's previous titles.
Also in universal ePUB format at Smashwords. Look for it, too, in ePUB at Kobobooks.
…
CATALOGING:
ISBN 978-1-61027-276-6 (pbk.); list price $15.99
ISBN 978-1-61027-277-3 (ePUB); list price $5.99
ASIN B00O6APP8C (Kindle); list price $5.99
Page count: 184 pp.