The Organizational Weapon is a classic study of the methods, propaganda, and institutions which create infiltration and eventually cooptation of organizations from within. The study applies its theory to communist techniques, but its analysis and insights have, over the years, become extremely useful in identifying and combating such methods in jihadist cells, terrorist organizations, and political groups of many varieties, not only from the Left. Its utility is demonstrated in how it has influenced and been cited by current writers on how extremist and politically astute groups recruit and infiltrate more benign organizations to make them tools of further expansion in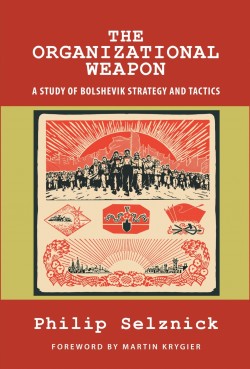 power and action. The book is also considered excellent social science and history, analyzing an important period in time when trade organizations, community groups, and the like became affected by Soviet encroachment and Marxist influence. Its insights, from one of the most esteemed and creative social scientists, have stood the test of time.
The new reprint edition from Quid Pro Books features an extensive and substantive 2014 Foreword by Martin Krygier, a senior professor of law and social theory at the law school of the University of New South Wales, and adjunct professor at Australian National University.
Krygier explains several "compelling" contemporary reasons to consider this work: "the world-historical significance of the movement the book analyzes; the particular combination of political understanding and engagement with theoretical sophistication which Selznick brought to his subject; the distinctive focus and character of the analysis; and its continuing significance, in relation both to enduring social problems and to the oeuvre of a distinguished and distinctive thinker. On each of these levels, this book is exemplary." Moreover, "communists are not the only people with an interest in converting adherents into 'deployable agents.' Modern terrorist organizations, radically different in their goals, have a similar organizational need and ambition. … Students of other organizations that seek to convert adherents into 'deployable agents' might well find suggestive contemporary parallels," Krygier notes. In sum, this book is "far more than an ephemeral political intervention and at the same time more engaged and engaging than is common in academic work. This is one more reason among several to commend this work to a new generation of readers."
Originally published by McGraw Hill and The Free Press, this is an authorized and unabridged new addition to the Classics of the Social Sciences Series from Quid Pro Books.
Available in new paperback edition at such retailers as Amazon.com, our QP eStore page (fulfilled securely by Amazon), Barnes & Noble, BooksAMillion, YBP Library Services, and Ingram.
New library-quality HARDCOVER edition available at Amazon.com, Barnes & Noble, BooksAMillion, YBP, Ingram, and other booksellers.
Also available in leading digital formats:
Kindle edition, at Amazon.
NOOKBook, at Barnes & Noble.
At Apple iBooks and iTunes (see it on iPad and iPhone bookstores; previewed online).
At Google Play and Google Books.
And at Smashwords and Kobobooks in universal ePUB format.
…
Cataloging:  The Organizational Weapon: A Study of Bolshevik Strategy and Tactics
Author:  Philip Selznick
ISBN  978-1-61027-830-0 (hardcover); list price US $41.99
ISBN 978-1-61027-272-8 (paperback); list price US $34.99
ISBN 978-1-61027-275-9 (ebook); list price US $9.99
Page count: 304 pp.
Publication date: October 31, 2014