The October 2014 issue of The Yale Law Journal (the first for academic year 2014-2015) features new articles on law and legal theory by internationally recognized scholars. Contents include:
* Article, "Self-Help and the Separation of Powers," by David E. Pozen
* Article, "Criminal Attempts," by Gideon Yaffe
* Note, "The Rise of Institutional Mortgage Lending in Early Nineteenth-Century New Haven," by  Steven J. Kochevar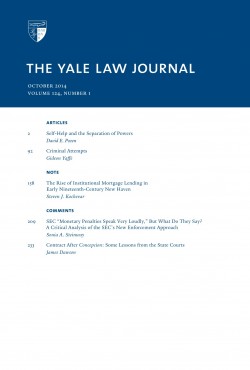 * Comment, "SEC 'Monetary Penalties Speak Very Loudly,' But What Do They Say? A Critical Analysis of the SEC's New Enforcement Approach," by Sonia A. Steinway
* Comment, "Contract After Concepcion: Some Lessons from the State Courts," by James Dawson
This quality ebook edition features linked notes, active Contents, active URLs in notes, and proper Bluebook formatting. The Oct. 2014 issue is Volume 124, Number 1.
The editors of The Yale Law Journal are a group of Yale Law School students, who also contribute Notes and Comments to the Journal's content. The principal articles are written by leading legal scholars. Ebook editions are exclusively published by Quid Pro Books. Available in leading digital formats:
Kindle edition, at Amazon.
NOOK, at Barnes & Noble.
Apple iBooks and iTunes (see it directly on iPad and iPhone bookstores; previewed online).
At Google Play and Google Books.
And in universal ePUB at Smashwords; look for it, too, at Kobobooks in ePUB format.
…
Cataloging: Volume 124, Number 1 (Oct. 2014):
ISBN 978-1-61027-851-5 (ebook)
List price: US $.99 (ebook) / Page count: 250 pp.