The November issue is the special annual review of the U.S. Supreme Court's previous Term. Each year, the issue is introduced by noteworthy and extensive contributions from recognized scholars. In this issue, for the 2013 Term, articles include:
• Foreword: "The Means of Constitutional Power," by John F. Manning
• Comment: "Slipping the Bonds of Federalism," by Heather K. Gerken
• Comment: "The Supreme Court as a Constitutional Court," by Jamal Greene
• Comment: "The Hobby Lobby Moment," by Paul Horwitz
In addition, the first issue of each new volume provides an extensive summary of the important cases of the previous Supreme Court docket, covering a wide range of legal, political and constitutional subjects. Student commentary on Leading Cases of the 2013 Term includes recent cases on: content neutrality under the First Amendment; compelled subsidized speech; free speech and contribution limits; legislative prayer and the establishment of religion; search and seizure law as to anonymous tips, cellphones, and cotenant consent; equal protection and political process; right to counsel; Eighth Amendment issues for intellectually impaired defendants; standing and jurisdiction; class actions; tribal immunity; the Clean Air Act; immigration of children; misrepresentation of buyer and gun control law; and copyright law's Transmit Clause. Complete statistical graphs and tables of the Court's actions and results during the Term are included. Finally, the issue features several summaries of Recent Publications.
The issue also features essays on substantive and procedural law, and judicial method, honoring Justice Stephen G. Breyer and his notable contributions to law and the Supreme Court. The essays are written by scholars Martha Minow, Martha Field, Cass Sunstein, Richard Fallon, Michael Klarman, Todd Rakoff, Joseph Singer, John Manning, Laurence Tribe, I. Glenn Cohen, and Mark Tushnet.  The Harvard Law Review is offered in a quality digital edition, featuring active Contents, linked footnotes, active URLs, legible tables, and proper ebook and Bluebook formatting. This current issue of the Review is November 2014, the first issue of academic year 2014-201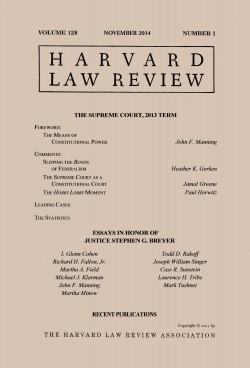 5 (Volume 128).
This quality ebook edition features linked notes, active Contents, active URLs in notes, and proper Bluebook formatting. The Nov. 2014 issue is Volume 128, Number 1. The principal articles are written by leading legal scholars. Ebook editions are exclusively published by Quid Pro Books. Available in leading digital formats:
Kindle edition, at Amazon.
NOOK, at Barnes & Noble.
Apple iBooks and iTunes (see it directly on iPad and iPhone bookstores; previewed online).
At Google Play and Google Books.
And in universal ePUB at Smashwords; look for it, too, at Kobobooks in ePUB format.
…
Cataloging: Volume 128, Number 1 (Nov. 2014):
ISBN 9781610278522 (ebook)
List price: US $3.99
Page count: 528 pp.