The New England Law Review offers its issues in convenient and modern ebook formats for e-reader devices, apps, pads, smartphones, and computers. This third issue of Volume 48, Spring 2014, contains articles and presentations from leading figures of the academy and the legal community. Contents of this issue include a Symposium on "Benchmarks: Evaluating Measurements of Judicial Productivity," featuring such recognized legal scholars as Jordan Singer, Hon. William Young, Hon. Lee Rosenthal, Steven Gensler, Chad Oldfather, John Spottswood, Carolyn Dubay, and Malia Reddick. Both trial and appellate courts are considered.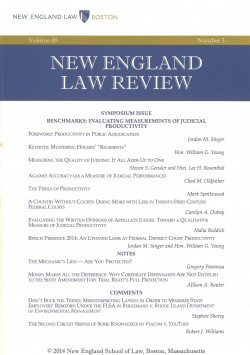 In addition, extensive student research explores such fields as copyright infringement by YouTube, corporate crimes and jury findings, employees' remedies under FLSA, and protections of the mechanic's lien.
As with other law reviews published in digital form by Quid Pro Books (see several categories on the right sidebar), quality features include active Contents, linked notes, active URLs in notes, and proper ebook formatting for the convenience of the reader.
Available in quality eBook formats at leading sites:
Amazon for Kindle.
Barnes & Noble for Nook.
At Google Play app on Nexus and similar android devices, and generally at Google Books.
At Apple iBooks and iTunes bookstore, direct on the iPad and iPhone (previewed online).
Also in universal ePUB format from Smashwords. Look for it, too, at Kobobooks and other ebookstores.
…
CATALOGING:
Print page count: 242 pages; list price:  $ 1.99
Publication Date: Dec. 10, 2014
ISBN 9781610278577 (eBook)