Set in 14th Century London during the time of the Great Pestilence, THE RAT-TAKER is about an obsessive love and a tragic event coiled into one mystery.
Simon the Rat-Taker, or, as he came to called, Simon Ratiker, is a man obsessed by a terrible event that he cannot wholly remember. Driven by the question, "What did happen?" Simon attempts to recall the truth by dictating to his scribe the events of the day that became the cross point of his life: "the day the rats began to die."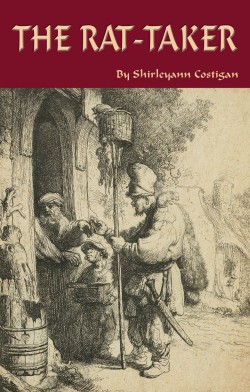 In the course of his duties, Simon's scribe, Jonathan Purchell, senses something evil, something threatening, in the House of Ratiker. He vows to uncover it and begins a second narrative in his journal to explore his suspicions. As both men pursue a different truth, time twists and events bend until the two narratives conclude in one horrific event that brings enlightenment — and death.
New and original fiction from QP Books, an imprint of Quid Pro. Digital edition features quality formatting, all the illustrations from the print edition, and active Table of Contents. Paperback and ebooks are available. A compelling new addition to the Fiction Series from Quid Pro.
Available in new paperback edition at such retailers as Amazon.com, our QP eStore page, Barnes & Noble, BooksAMillion, YBP Library Services, and Ingram.
Also available in leading digital formats:
Kindle edition, at Amazon.
Nook edition, at Barnes & Noble.
At Apple iBooks and iTunes (see it on iPad and iPhone bookstores; previewed online).
At Google Play and Google Books.
And look for it at Smashwords, and soon at Kobobooks in ePUB format.
…
Cataloging:  The Rat-Taker
Author:  Shirleyann Costigan
ISBN 978-1-61027-278-0
Paperback list price $17.99 US / 11.59 Pounds / 13.99 Euro
ASIN B00R1FPRR8 (Kindle eBook): $5.99 (and other eBook editions)
Page count: 130 pp.
Publication date: Dec. 20, 2014
About the Author:
Shirleyann Costigan, an educator, writer, and editor, received her M.A. in English Studies from Loyola University, Los Angeles. Before beginning her long career as a writer for school publishing, she was an elementary school teacher and a college instructor. She has since worked for numerous school publishers including Boston Educational Research and Hampton-Brown Publishing. She currently edits and writes for National Geographic School Publishing, Washington, D.C., and lives in Baja California, Mexico.