The Harvard Law Review, January 2015, is offered in a digital edition. Contents include: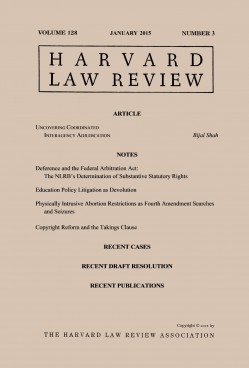 * Article, "Uncovering Coordinated Interagency Adjudication," by Bijal Shah
* Note, "Deference and the Federal Arbitration Act: The NLRB's Determination of Substantive Statutory Rights"
* Note, "Education Policy Litigation as Devolution"
* Note, "Physically Intrusive Abortion Restrictions as Fourth Amendment Searches and Seizures"
* Note, "Copyright Reform and the Takings Clause"
In addition, the issue features student commentary on Recent Cases and policy resolutions, including such subjects as constitutional protection for teacher tenure, suspicionless street stop of suspect's companion, the necessity of warrants to search foreign emails, confrontation clause in sentence selection phase of capital cases, subject matter jurisdiction of tribal courts, physician inquiries into gun ownership and the First Amendment, FDA inaction on pet drugs and unreviewability-of-inaction doctrine, and veto of a UN resolution on Syrian conflict. Finally, the issue features several summaries of Recent Publications.
The Harvard Law Review is a student-run organization whose primary purpose is to publish a journal of legal scholarship. The Review comes out monthly from November through June and has roughly 2500 pages per volume. The organization is formally independent of the Harvard Law School. Student editors make all editorial and organizational decisions. This issue of the Review is January 2015, the third issue of academic year 2014-2015 (Volume 128). The digital edition features active Contents, linked notes, linked URLs, and proper ebook and Bluebook formatting.
Available in leading formats:
Kindle edition, at Amazon.
NOOK, at Barnes & Noble.
Apple iBooks and iTunes (see it directly on iPad and iPhone bookstores; previewed online).
At Google Play and Google Books.
And in universal ePUB at Smashwords; look for it, too, at Kobobooks in ePUB format for the Kobo Reader, as well as other ebook sites such as Axis360.
…
Cataloging: Volume 128, Number 3 (January 2015):
ISBN 9781610278560 (ebook)
ASIN B00S1YELS4 (Kindle)
List price: US $3.99
Page count: 265 pp.