The
New York Times
Bestseller is now available in modern digital formats, featuring a new Foreword by Justice Samuel Alito, as well as a new paperback and hardcover. This book has universally been considered an unusual, fascinating, and well-written observation of the life of a man who was first a war hero and Medal of Honor winner from the Korean War, then Chief Justice of the United States, later a monk, and finally elected Pope: Pope Francis I. His exciting life is described by three men who 'knew him well.' The first narrator is a Marine, telling of their time together in Korea. A constitutional scholar and Supreme Court Justice, appalled at the new Chief Justice, narrates the second phase. The third is a Cardinal of the Roman Catholic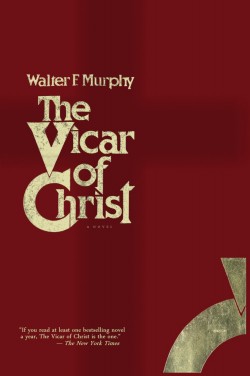 Church: fat, kind but distracted. The Marine cares for him the most, the Supreme Court Justice condescends and despises him, and the Cardinal is much more interested in food than his subject. But Declan Walsh was a man who earned the Medal of Honor while ordering the death of his comrade, ruled pragmatically and energetically on the Court but lost his way to loss and neglect, and became a miraculous healer, assassinated for challenging the powers that rule the secular world.
…
…
Ebook edition available in all leading formats:
Amazon for Kindle.
Barnes & Noble for Nook.
Google for Google Play, and more generally at Google Books.
Apple iTunes and iBooks, direct on iPad and iPhone. Preview online.
And at Smashwords in universal ePUB format, and in ePUB at Kobobooks.
…
CATALOGING: The Vicar of Christ
ISBN 9781610272841 (hardcover, 2015) | list price $34.99
ISBN 9781610272698 (principal paperback edition, 2015) | list price  $29.99
ISBN 9781610278065 (trade paperback, 2016 printing) | list price  $29.99
ISBN 9781610272537 (ebook) | list price $7.99
Page count: 548 pp.
Publication date: Jan. 20, 2015