The Harvard Law Review, February 2015, is offered in a digital edition. Contents include:
• Article, "The Consequences of Error in Criminal Justice," Daniel Epps
• Book Review, "Running Government Like a Business … Then and Now," Jon D. Michaels
• Note, "International Norms and Politics in the Marshall Court's Slave Trade Cases"
• Note, "Congress's Power to Define the Privileges and Immunities of Citizenship"
• Note, "It's About Time (Place and Manner): Why and How Congress Must Act to Protect Access to Early Voting"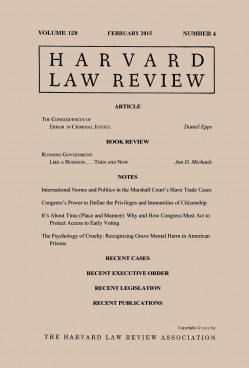 • Note, "The Psychology of Cruelty: Recognizing Grave Mental Harm in American Prisons"
In addition, the issue features student commentary on Recent Cases, Legislation, and Executive Orders, including such subjects as: whether false claims used to advise or encourage suicide are protected speech; whether pollutants from rail yards are "disposal" of solid waste; class action standing of absent class members in certain BP oil spill claims; review of an SEC settlement; municipal bankruptcy and preemption; requiring on-the-record indigency proceedings prior to incarceration for failure to pay fines; and prohibition of federal government and contractor employment discrimination on the basis of sexual orientation or gender identity. Finally, the issue features several summaries of Recent Publications.
The Harvard Law Review is a student-run organization whose primary purpose is to publish a journal of legal scholarship. This issue of the Review is Feb. 2015, the fourth issue of academic year 2014-2015 (Volume 128). The digital edition features active Contents, linked notes, and proper ebook and Bluebook formatting.

Available in leading formats:
Kindle edition, at Amazon.
NOOK, at Barnes & Noble.
Apple iBooks and iTunes (see it directly on iPad and iPhone bookstores; previewed online).
At Google Play and Google Books.
And in universal ePUB at Smashwords; look for it, too, at Kobobooks in ePUB format for the Kobo Reader, as well as other ebook sites such as Oyster and Axis360.
…
Cataloging: Vol. 128, No. 4 (Feb. 2015):
ISBN 9781610278485 (ebook)
List price: US $3.99
Page count: 272 pp.