Judges don't discover the law, they create it.  A renowned and much-used analysis of the process of judicial decision-making, now including  a new, explanatory Foreword by Justice Cardozo's premier biographer, Andrew L. Kaufman, law professor at Harvard and author of Cardozo (Harvard Univ. Press, 1998). Features embedded pagination from the original Yale edition, for continuity of references, and photographs of the author.
Justice Benjamin Nathan Cardozo (1870-1938) offered the world a candid and self-conscious view of how judges decide cases and the law — they're lawmakers and not just law-appliers, he knew — drawn from his insights and experience on the bench in a way that no judge had done before.  Asked the basic questions, "What is it that I do when I decide a case? To what sources of information do I appeal for guidance?," Cardozo answered in his timeless prose, explaining such tools as logic and analogy to precedent; analysis of history and tradition; application of policy and sociology; and even the subconscious forces that drive judges' decisions. This book continues to be read today by lawyers and judges, law students and scholars, historians and and philosophers — anyone interested in how judges really think and the tools they employ.
Famous for his trenchant and fluid opinions as a Justice on New York's highest court — he is still studied on questions of torts, contracts, and business law — and later a Justice of the U.S. Supreme Court, Cardozo filled the lecture hall at Yale when he finall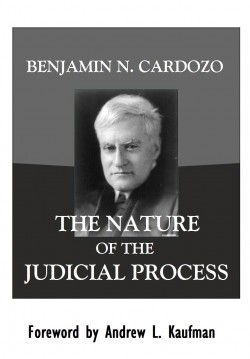 y answered the frank query into what judges do and how do they do it. The lectures became a landmark book and a source for later studies of the ways of a judge. Compiled by Professor Kaufman, and presented as part of the Legal Legends Series, this edition is the understandable and usable rendition of a classic work of law and politics. Cardozo's frank discussion of the influences on judges, and Kaufman's expert take on Cardozo and his work, combine for an interesting study of judicial decision-making, still useful today.
EBOOKS AVAILABLE: AMAZON for Kindle and its apps. (Also at Amazon UK.) At Barnes & Noble for Nook, and on Apple iTunes bookstore directly for iPad.  (Or just use the Nook or Kindle app on iPad.)
And from Smashwords in many digital formats, including ePUB, active PDF, rtf, and online reading.  Also at Kobobooks and at Google Play.
…
PRINT EDITIONS:
Available in modern PAPERBACK, at our eStore page. And  at Amazon general site, B&N, BAM!, YBP, and Ingram; or ask us about bulk sales and classroom adoptions.
HARDCOVER: Library-quality clothbound. Available from Barnes & Noble, Amazon, BAM!, and other retailers; or order directly from the Ingram or YBP catalogs.
CATALOGING for the Paperback edition, 2010 and 2015 printings: ISBN 9781610270182; and equivalent 2016 trade ed. paperback printing: ISBN 9781610278034.

ISBN 9781610270205. In ePUB format: ISBN: 9781610279888. See this one, for example, at
Barnes & Noble
for Nook and its apps.
…
Hardback available retail through all booksellers and directly from Ingram or Baker & Taylor: ISBN 9781610279826. Library and institutional quality, but also affordably priced so that classroom recommendations are feasible. Print editions and ebooks include the same embedded original pagination, the photographs, and new Foreword, for continuity of assignments in classes over nine platforms; makes it pain-free to adopt one edition for classes and be assured the pages match up (not so with other publishers' editions, even those that copy the pages wholesale but inexplicably change the page numbers). Please be aware that some sites, especially B&N online, add links to the wrong editions or often switch product descriptions. Better to use the links above, or note only those that list Professor Kaufman in the heading as a contributor or show Quid Pro, LLC as the publisher of record.