The football game is tied. It's in sudden death overtime. And that's when three Islamic extremists trigger an explosion that kills over 100 innocent spectators. The men who did it are promptly caught and charged with capital murder, but everyone knows that there are more guilty people behind the act. There are banks, or foundations, or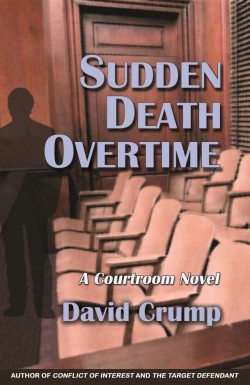 governments who fronted this terrorism. Terrorists need money.
Families of the victims ask attorney Robert Herrick—the "Lawyer for the Little Guy"—to bring the financiers to justice. It's a tough claim, and he declines . . . but eventually he's persuaded to take the case. Nothing about this lawsuit is easy, from preparing the court papers, to discovering who did it and how, to presenting enough proof at trial. Herrick will have to use all of his skills to have a fighting chance at making his claim, and—once the terrorists target him too—he'll have to scramble to save his own life.
"David Crump . . . knows his courtroom procedure and trial tactics. I like reading his legal fiction, which has the authentic ring of truth, but [in his job as a law professor] he would scare the hell out of me in class."
— Michael A. Olivas, Professor of Law and Former President, American Association of Law Schools
". . . A fascinating international legal thriller . . . penetrating the world of a foreign legal system and fashioning a tale that only a legal expert could tell."
— Gary Taylor, Pulitzer Prize Nominee Journalist; Author of true-crime bestseller Luggage by Kroger
AVAILABLE in paperback at Amazon.com, our QP eStore (fulfilled by Amazon), Barnes & Noble, BooksAMillion, YBP Library Services, and other booksellers.
Also available in eBook editions:
Amazon for Kindle.
Barnes & Noble for Nook.
At Apple iBooks and iTunes bookstore (previewed online).
Available in universal ePUB digital format from Smashwords. And in ePUB at Kobobooks.
Also at Google Play (app for Nexus and similar Android devices), as with most of our titles. For example, Crump's earlier novels The Holding Company and Conflict of Interest are also  found at Google Play, as is his adaptation of The Aeneid. More generally, this new book is seen at Google Books here.
…
About the Author:
David Crump is a senior professor of law at the University of Houston and the author of numerous law textbooks as well as books of poetry, legal fiction, and a modern version of Virgil's The Aeneid.
…
Cataloging: SUDDEN DEATH OVERTIME : A COURTROOM NOVEL
ISBN 978-1-61027-303-9 (paperback), list price $16.99)
ISBN 978-1-61027-309-1 (eBook), list price $6.99)
ASIN B00W3RC3HG (Kindle), list price $6.99)
Page count: 212 pp.
Published May 1, 2015