The contents of the April 2015 issue (Volume 124, Number 6) are:
• Article, "The Constitutional Duty To Supervise," by Gillian E. Metzger
• Article, "Architectural Exclusion: Discrimination and Segregation Through Physical Design of the Built Environment," by Sarah Schindler
• Feature, "Fifty Attorneys General, and Fifty Approaches to the Duty To Defend," by Neal Devins & Saikrishna Bangalore Prakash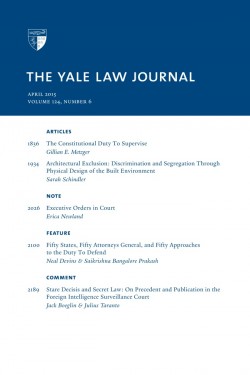 • Note, "Executive Orders in Court," by Erica Newland
• Comment, "Stare Decisis and Secret Law: On Precedent and Publication in the Foreign Intelligence Surveillance Court," by Jack Boeglin & Julius Taranto
The digital edition features active Contents, linked notes, and proper ebook and Bluebook formatting.
Available in leading formats:
Kindle edition, at Amazon.
NOOK, at Barnes & Noble.
Apple iBooks and iTunes (see it directly on iPad and iPhone bookstores; previewed online).
At Google Play and Google Books.
And in universal ePUB at Smashwords; look for it, too, at Kobobooks in ePUB format for the Kobo Reader, as well as other ebook sites such as Oyster and Axis360.
…
Cataloging: Vol. 124, No. 6 (Apr. 2015):
ISBN 9781610278379 (ebook)
List price: US $.99
Page count: 373 pp.