Karl Llewellyn, a legal realist whose views on jurisprudence were influential and sometimes controversial, was also one of the leading teachers of fundamental legal thought. He took seriously the functions of courts, the use of precedent, and the power of rules. In this important book, he laid bare these jurisprudential tools, in support of appellate court thinking at all levels in the legal system. Legal analysis is so clearly picked apart that this work has served as a tool-kit for judicial thinking — and persuasive argument to courts — since it was first published in 1960. And his invaluable appendices show in detail how arguments and judicial expressions can be turned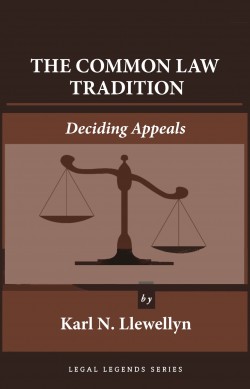 around to the advocate's advantage. This book is the culmination of a lifetime of analysis of legal thought from one of the legal system's most important legends.
The new digital and reprint editions from Quid Pro Books add a 2015 Foreword by senior Tulane law professor Steven Alan Childress, coauthor of the appeals treatise Federal Standards of Review and the Conrad Meyer Professor of Civil Procedure at Tulane. The Common Law Tradition is part of the Legal Legends Series. Quality ebook formatting includes linked notes, active Contents, linked Index and Table of Cases, and linked cross-references in text. The 2015 paperback embeds the original pagination from earlier printing, for continuity of referencing and citation, and for the convenience of the reader.
Karl N. Llewellyn (1893-1962) was a professor of law at the University of Chicago Law School and Columbia University Law School. A leading figure in legal realism, his books include The Bramble Bush: On Our Law and Its Study, The Cheyenne Way, Jurisprudence, The Theory of Rules, and The Case Law System in America.
New hardback edition: see it at Amazon, Barnes & Noble, YBP, etc. Includes the new foreword and features, in a 2016 library-quality hardcover printing.
Paperback
edition, including the new foreword, available at leading online bookstores including
Amazon
and
Barnes & Noble
, at our
QP eStore
page for the book, and at YBP, Ingram, and other booksellers.
. . .
Ebook edition available in these leading formats:
Amazon for Kindle.
Barnes & Noble for Nook.
And at Apple iTunes and iBooks, direct on iPad and iPhone. Preview online.
And at Google Books and Google Play app.
…
CATALOGING: The Common Law Tradition: Deciding Appeals
ISBN 9781610277921 (hardback) | list price $44.99; published May 30, 2016
ISBN 9781610272698 (paperback) | list price  $34.99; published May 8, 2015
ISBN 9781610272537 (ebook) | list price $9.99; available April 22, 2015
Page count: 434 pp.