The Harvard Law Review, May 2015, is offered in a digital edition. Contents include:
• Article, "The Normalization of Foreign Relations Law," by Ganesh Sitaraman and Ingrid Wuerth
• Book Review, "The Family, in Context," by Maxine Eichner
• Note, "Forgive and Forget: Bankruptcy Reform in the Context of For-Profit Colleges"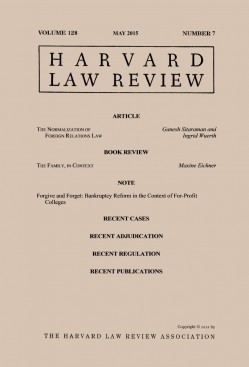 In addition, the issue features student commentary on Recent Cases and policy positions, including such subjects as: retroactive prosecution of conspiracy to commit war crimes at Guantanamo; holding a legislature in contempt for unconstitutional funding of education; bullying and criminal harassment law; first amendment implications of high school suppression of violent speech; using statistics to prove False Claims Act liability; first amendment problems of a requirement that sex offenders provide internet identifiers to police; BIA ruling that Guatemalan woman fleeing domestic violence meets asylum threshold; and FDA regulation on nutritional information under the Affordable Care Act. Finally, the issue features several summaries of Recent Publications.
The Harvard Law Review is a student-run organization whose primary purpose is to publish a journal of legal scholarship. Quid Pro Books is the exclusive ebook publisher of the Review.
…
Available in leading formats:
Kindle edition, at Amazon.
NOOK, at Barnes & Noble.
Apple iBooks and iTunes (see it directly on iPad and iPhone bookstores; previewed).
At Google Play and Google Books.
And in universal ePUB at Smashwords; look for it, too, at Kobobooks in ePUB format for the Kobo Reader, as well as other ebook sites such as Oyster and Axis360.
…
Cataloging: Vol. 128, No. 7 (May 2015):
ISBN 9781610278386 (ebook)
List price: US $3.99
Page count: 217 pp.
Publication date: May 10, 2015