A compelling new study of conflicts in Genoa during the 12th century. This book takes on the established orthodoxy about the extent, nature and effects of family conflicts and other civil disputes in medieval Genoa. As Emanuele Ferragina writes in the Foreword, Inguscio "brings history and its complexity back in, and he does so in a clear and empirically informed way. For this reason, Inguscio's analysis sheds a light on the study of conflict and violence in medieval Europe without the intellectual arrogance to try to demonstrate a de-contextualised theory." The work enriches our understanding of this time of crucial transition in Europe and the use of history and economic methods to explain it.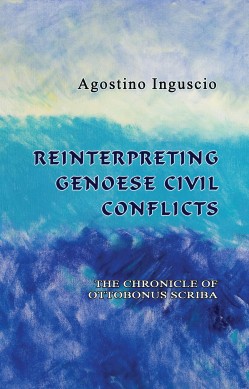 New from Quid Pro Books in the History & Heroes Series.
Library-quality HARDCOVER edition: See it at such booksellers as Amazon.com (and the Amazon UK store), Barnes & Noble, BooksAMillion, YBP Library Services, and Ingram Catalog.
PAPERBACK: Available at the Amazon general site (and its Amazon UK site), from our eStore with fulfillment by Amazon, at Barnes & Noble, or at BooksAMillion and other leading retailers. Libraries (and others) may also order through YBP Library Services and the Ingram Catalog.
Also available now in multiple eBook formats:
Amazon for Kindle. [Also, Amazon UK Kindle store for readers in UK, and other Amazon stores.]
Barnes & Noble for Nook.
Smashwords in universal ePUB format.
At Google Play, and at Google Books.
Available also at Apple iTunes and iBooks bookstores (see Preview), and in ePUB at Kobobooks.
…
CATALOGING: Reinterpreting Genoese Civil Conflicts: The Chronicle of Ottobonus Scriba
ISBN 9781610273053 (hardback); list price $34.99
ISBN 9781610272858 (paperback); list price $22.99
ISBN 9781610273046 (ebook); list price $8.99
Publication date: May 19, 2015
Page count: 108 pp.