The contents of the May 2015 issue (Volume 124, Number 7) are:
Articles
• Defining and Punishing Offenses Under Treaties, Sarah H. Cleveland & William S. Dodge
• Administrative Severability Clauses, Charles W. Tyler & E. Donald Elliott
Notes
• Class Ascertainability, Geoffrey C. Shaw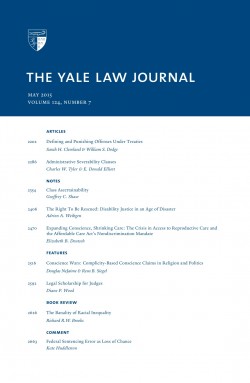 • The Right To Be Rescued: Disability Justice in an Age of Disaster, Adrien A. Weibgen
• Expanding Conscience, Shrinking Care: The Crisis in Access to Reproductive Care and the Affordable Care Act's Nondiscrimination Mandate, Elizabeth B. Deutsch
Features
• Conscience Wars: Complicity-Based Conscience Claims in Religion and Politics, Douglas NeJaime & Reva B. Siegel
• Legal Scholarship for Judges, Diane P. Wood
Book Review
• The Banality of Racial Inequality, Richard R.W. Brooks
Comment
• Federal Sentencing Error as Loss of Chance, Kate Huddleston
The digital edition features active Contents, linked notes, and proper ebook and Bluebook formatting.
Available in leading ebook formats:
Kindle edition, at Amazon.
Nook, at Barnes & Noble.
Apple iBooks and iTunes (see it directly on iPad and iPhone bookstores; previewed online).
At Google Play and Google Books.
And in universal ePUB at Smashwords; look for it, too, at Kobobooks in ePUB format for the Kobo Reader, as well as other ebook sites such as Oyster and Axis360.
…
Cataloging: Vol. 124, No. 7 (May 2015):
ISBN 9781610278348 (ebook)
List price: US $.99
Page count: 483 pp.