A Time for Every Purpose continues the series of collections of Eliezer Segal's beloved and witty articles about the Jewish sacred calendar — articles that originally appeared in his From the Sources column in the Calgary Jewish Free Press between 2011 and 2015. As always, the author strives to maintain a balance between accurate scholarship and entertaining readability as he introduces his readers to fascinating aspects of the Jewish festivals and holy days — and how they evolved in ongoing dialogue with historical changes, geographical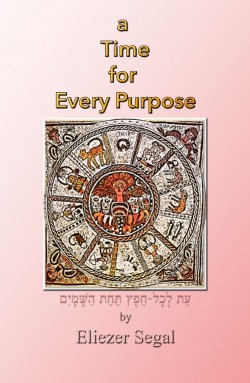 diversity, and intellectual challenges. The articles are written from a sympathetic but non-dogmatic perspective by a recognized scholarly authority on the academic study of Judaism.
Dr. Segal is a senior professor of religious studies at the University of Calgary and the author of numerous scholarly and popular books on Jewish culture, history and religion, including several published digitally by Quid Pro Books. See the summary and links at the bottom of the page about For Signs and for Seasons. Quid Pro Books is proud to be the ebook publisher of these informative and entertaining collections of essays.
Available in leading ebook formats:
Kindle edition, at Amazon.
Nook, at Barnes & Noble.
Apple iBooks and iTunes (directly on iPad and iPhone bookstores; previewed online).
At Google Play and Google Books.
And in universal ePUB at Smashwords; look for it, too, at Kobobooks in ePUB format for the Kobo Reader, as well as other ebook sites such as Oyster and Axis360.
…
Cataloging: A TIME FOR EVERY PURPOSE, by Eliezer Segal
ISBN 9781610278201 (ebook)
List price: US $5.99
Page count: 240 pp.