The contents of the 8th and final issue of academic year 2014-2015 (June 2015) are:
Article, "The New Corporate Web: Tailored Entity Partitions and Creditors' Selective Enforcement," Anthony J. Casey
Note, "A Reassessment of Common Law Protections for 'Idiots,'" Michael Clemente
Feature: Arbitration, Transparency, and Privatization:
"Diffusing Disputes: The Public in the Private of Arbitration, the Private in Courts, and the Erasure of Rights," Judith Resnik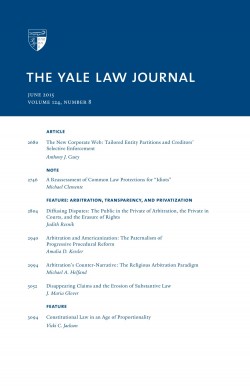 "Arbitration and Americanization: The Paternalism of Progressive Procedural Reform," Amalia D. Kessler
"Arbitration's Counter-Narrative: The Religious Arbitration Paradigm," Michael A. Helfand
"Disappearing Claims and the Erosion of Substantive Law," J. Maria Glover
Feature, "Constitutional Law in an Age of Proportionality," Vicki C. Jackson
Quality digital formatting includes fully linked footnotes and an active Table of Contents (including linked Contents for all individual Articles, Notes, and Essays), proper Bluebook formatting, and active URLs in footnotes. This ebook is the last issue of the academic year 2014-2015, Number 8 of Volume 124. It includes a cumulative Index for the Volume.
Available in leading ebook formats:
Kindle edition, at Amazon.
Nook, at Barnes & Noble.
Apple iBooks and iTunes (see it directly on iPad and iPhone bookstores; previewed online).
At Google Books and the Google Play app.
And in universal ePUB at Smashwords; look for it, too, at Kobobooks in ePUB format for the Kobo Reader, as well as other ebook sites such as Oyster and Axis360.
…
Cataloging: Vol. 124, No. 8 (June 2015):
ISBN 9781610278355 (ebook)
List price: US $.99
Page count: 530 pp.