The controversial history of sermons, the physics and philosophy of rainbows, lions in the synagogue, hares in the Greek Bible, the gold standard, God in human disguise—these are but a few of the many topics that are introduced in this lively miscellany of glimpses into exotic frontiers of Jewish literature, history, and tradition. In the present compendium of short studies, Dr. Eliezer Segal once again introduces the public to the fruits of Judaic scholarship, while employing a charming style that combines learning and wit. Chronicles and Commentaries is the latest addition to the author's distinguished series of collections that includes: Why Didn't I Learn That in Hebrew School? (1999), Ask Now of the Days that Are Past (2005), A Meeting-Place for the Wise (2008), and On the Trails of Tradition (2011).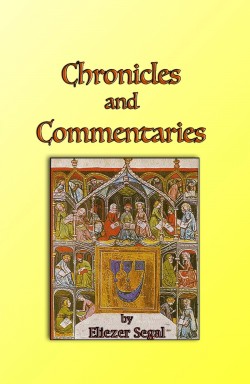 The new digital edition from Quid Pro Books features proper ebook formatting, active Contents, and all the illustrations from the author's paperback edition.
Dr. Segal is a senior professor of religious studies at the University of Calgary and the author of numerous scholarly and popular books on Jewish culture, history and religion—including several published digitally by Quid Pro Books, such as the fun book For Signs and for Seasons. Quid Pro Books is proud to be the ebook publisher of these informative and entertaining collections of essays.
Available in leading ebook formats:
Kindle edition, at Amazon.
Nook, at Barnes & Noble.
Apple iBooks and iTunes (directly on iPad and iPhone bookstores; previewed online).
At Google Play and Google Books.
And in universal ePUB at Smashwords; look for it, too, at Kobobooks in ePUB format for the Kobo Reader, as well as other ebook sites such as Oyster and Axis360.
…
Cataloging:
ISBN 9781610278232 (ebook)
List price: US $5.99
Page count: 248 pp.