The New England Law Review offers its issues in convenient digital formats for e-reader devices, apps, pads, smartphones, and computers.
This third issue of Volume 49 (Spr. 2015) features an extensive and important Symposium on "Educational Ambivalence: The Story of the Academic Doctorate in Law," presented by leading scholars on the subject. Contents include:
"Educational Ambivalence: The Rise of a Foreign-Student Doctorate in Law," by Gail J. Hupper
"The Context of Graduate Degrees at Harvard Law School Under Dean Erwin N. Griswold, 1946-1967," by Bruce A. Kimball
"Perspectives on International Students' Interest in U.S. Legal Education: Shifting Incentives and Influence," by Carole Silver
"A Future for Legal Education," by Paulo Barrozo
In addition, Issue 3 includes these extensive student contributions:
Note, "The Transgender Eligibility Gap: How the ACA Fails to Cover Medically Necessary Treatment for Transgender Individuals and How HHS Can Fix It," by Sarah E. Gage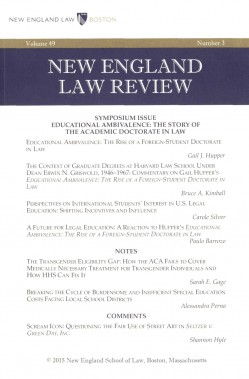 Note, "Breaking the Cycle of Burdensome and Inefficient Special Education Costs Facing Local School Districts," by Alessandra Perna
Comment, "Scream Icon: Questioning the Fair Use of Street Art in Seltzer v. Green Day, Inc.," by Shannon Hyle
Quality digital formatting includes linked notes, active table of contents, active URLs in notes, and proper Bluebook citations.
Issue 3 available in eBook formats at leading sites:
Amazon for Kindle.
Barnes & Noble for Nook.
At Google Play app on Nexus and similar android devices, and generally at Google Books.
At Apple iBooks and iTunes bookstore, direct on the iPad and iPhone (previewed online).
Also in universal ePUB format from Smashwords. Look for it, too, at Kobobooks, Oyster, and other ebookstores.
CATALOGING (Vol. 49, No. 3 – Spr. 2015):
Print page count: 296 pages; list price:  $ .99
ISBN 9781610278249 (eBook)