Frank May, the lawyer who's a reluctant detective, takes on the mystery of a house full of characters and and secrets. Frank's law office is in San Mateo, California, his practice often dealing with wills and estates. Dead clients are an essential part of an estates practice, but these are, for almost everybody, quite natural deaths. Yet somehow, through some quirk of fate, unnatural deaths seem to plague Frank's clients and those close to them. And he gets drawn into these mysterious affairs.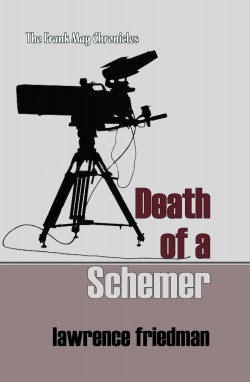 Andrew Wright, a schemer if there ever was one, was not exactly a client. Andrew had befriended a woman well past her mental prime, living in a big house in Palo Alto. Andrew took over the house, renting out rooms to a mixed group of people. Then Andrew came to Frank with a hare-brained plan: to install cameras in the house and film an actual murder. Frank wants no part of it but agrees, in a weak moment, to meet Andrew about the plan. That night, Andrew is murdered in the house. Frank is, despite himself, entangled in the mysterious death of this schemer. But who killed Andrew? Was it one of the housemates? One of them, at least, has a sinister past — a past that seems to include getting away with murder. And what role did another of Andrew's schemes — his collection of lurid tales about earthquakes, sex, and embarrassing moments — play in his death? After a copycat killing happens nearby, the mystery only grows deeper.
A new QP Mystery, in the series The Frank May Chronicles. See others in the series here. See this recent story in Palo Alto Weekly about Lawrence Friedman's fiction writing, Quid Pro Books, and the Frank May series.
Available in paperback: See it at Amazon.com, our QP eStore page for this book (fulfilled securely by Amazon), Barnes & Noble online, BooksAMillion, YBP Library Services, and Ingram.
Also available in leading eBook editions:
Amazon for Kindle.
Barnes & Noble for Nook.
At Apple iBooks and iTunes bookstore, direct on iPad and iPhone (previewed online).
At Google Play, and more generally Google Books, as are all of Professor Friedman's previous titles.
Also in universal ePUB format at Smashwords. Look for it, too, in ePUB at Kobobooks, Axis360, Oyster, and other online sites.
…
CATALOGING:
ISBN 978-1-61027-306-0 (pbk.); list price $15.99
ISBN 978-1-61027-307-7 (ePUB); list price $5.99
ASIN B013SC4KHU (Kindle); list price $5.99
Page count: 224 pp.