A Woman's Right to Culture is a new and insightful analysis of the usual meme that cultural rights in international law are at odds with the rights of women in affected societies. Rather than seeing these concepts as mutually exclusive, Linda Veazey frames cultural rights — through detailed case studies and analysis of law — in a way that incorporates and enriches the very gender-protective norms they are often thought to defeat.
Adding a Foreword by University of Southern California professor Alison Dundes Renteln, the study makes the case, and supports it with illustrations over several continents and cultures, that the only way out of the dilemma is to have a gendered conception of cultural rights. The book, writes Renteln, "provides a novel interpretation of women's human rights. This superb monograph written by political scientist and human rights advocate Dr. Linda Veazey is cutting-edge research in sociolegal scholarship concerning the status of global feminism." Renteln concludes that the author "shows convincingly that scholars and advocates must take greater care in analyzing policy debates in the light of competing international human rights claims. In her engaging work, Veazey makes an important contribution to legal theory, public law, feminist studies, political science, and human rights scholarship. Her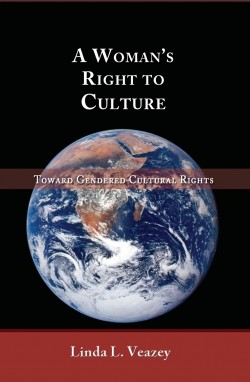 fascinating analysis of the interrelationship between women's rights and cultural rights will undoubtedly be considered a classic. There is simply no book like it."
A new and important book in international human rights, and gender studies, from Quid Pro Books.
HARDCOVER available at such booksellers as Amazon.com, Barnes & Noble, BooksAMillion, YBP Library Services, and Ingram catalog.
PAPERBACK available at such booksellers as Amazon.com, Barnes & Noble, BooksAMillion, YBP Library Services, and Ingram, as well as the Quid Pro eStore page for this book (fulfilled securely and quickly by Amazon).
AVAILABLE also in quality eBook formats at leading sites:
Amazon for Kindle.
Barnes & Noble for Nook.
At Google Play app on Nexus and similar devices, and generally at Google Books (as with all our titles).
And at Apple iBooks and iTunes bookstore, direct on iPad and iPhone.
Also available in universal ePUB format from Smashwords. Look for it, too, at such ebook sites as Kobobooks and Axis360.
…
Cataloging:
A Woman's Right to Culture: Toward Gendered Cultural Rights, by Linda L. Veazey
ISBN 9781610273145 (paperback), list US $29.99
ISBN 9781610273299 (hardcover), list US $46.99
ISBN 9781610273152 (eBook), list US $9.99

Page count: 144 pp.

Publication date: Nov. 3, 2015