The contents of November 2015 (Vol. 125, No. 2) are:
Articles: "The Un-Territoriality of Data," by Jennifer Daskal; and
"Political Entrenchment and Public Law," by Daryl Levinson & Benjamin I. Sachs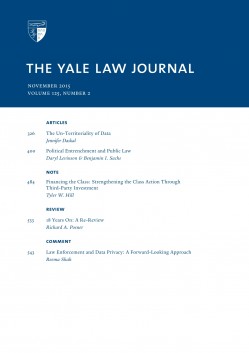 Review Essay: "18 Years On: A Re-Review," by Richard A. Posner (reviewing William Eskridge's book on marriage equality)
Note: "Financing the Class: Strengthening the Class Action Through Third-Party Investment," by Tyler W. Hill
Comment: "Law Enforcement and Data Privacy: A Forward-Looking Approach," by Reema Shah
Quality ebook formatting includes fully linked footnotes and an active Table of Contents (including linked Contents for individual Articles and Notes), proper Bluebook formatting, and active URLs in footnotes. This is the second issue of Volume 125, academic year 2015-2016.
Available at leading ebook sites:
Amazon for Kindle.
Barnes & Noble for Nook.
Google for Google Play app and Nexus or Android devices, as well as Google Books.
Apple iTunes and iBooks, found direct on the iPad and iPhone (preview).
And in ePUB format at Smashwords; look for it, too, at Kobobooks for the Kobo Reader, and such ebook sites as Axis360 and Oyster.
…
Cataloging:
ISBN 978-1-61027-811-9 (ebk)
Page count: 240 pp.; list price: US $0.99