Even a cursory glance at today's headlines reveals that higher education is in crisis. Tuition outpaces inflation, states slash budgets, graduation rates decline, and technology threatens to reshape everything. Universities continue to crank out new PhDs, but many will become poorly paid members of a secondary, adjunct labor force teaching most of today's college courses. Scholars lucky enough to be on the tenure track must publish more and more, while students at large universities sit in ever larger lectures, seldom interacting with professors.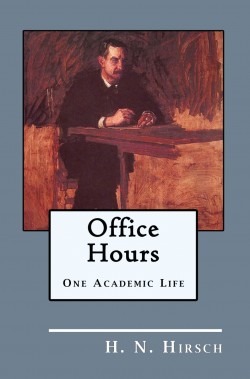 Yet every year, thousands of applicants from the world over apply to America's most prestigious colleges and universities, and students and their families continue to spend huge sums on college.
What are colleges and universities really like—from the inside? What do we do wrong, and what are we doing right? What is it like to be a professor and administrator at one of America's leading educational institutions? This memoir asks these questions, in a very personal way.
"This is the story of a serious scholar finding his vocation, his students and his gratifications, amidst the near-impossibility of such discoveries in higher education today. The writing is beautiful and the accounts of times, places and institutions are alternatively moving, penetrating and provocative."
— Wendy Brown
University of California–Berkeley
"Written in lyrical and sparkling prose, Harry Hirsch's Office Hours is, on the one hand, an intimate and insightful memoir of a Jewish gay man's trajectory from a Chicago boyhood to Princeton, Harvard, and beyond. On the other hand, it's a penetrating critical analysis of college and university approaches to education by an accomplished professor and dean (and dedicated teacher) who knows of what he speaks. Office Hours draws back the curtain on a major way of American life—the academic way—revealing at once the bright spots and the rotten ones. It should be read by every dean, professor, and adjunct, and by anyone involved in an academic career or contemplating one."
— Priscilla Long
Author of The Writer's Portable Mentor and Crossing Over: Poems
H. N. Hirsch is currently Professor of Politics at Oberlin College, where he has also served as Dean of the Faculty of Arts and Sciences. Previously, he held an endowed chair at Macalester College in Minnesota, and served for fourteen years at the University of California-San Diego and as Assistant Professor at Harvard.
Hardcover edition: available at such booksellers as Amazon.com, Barnes & Noble, BooksAMillion.com, Powell's, YBP Library Services, and Ingram catalog.
Paperback edition: available at such booksellers as Amazon.com, our QP eStore page (fulfilled securely by Amazon), Barnes & Noble, BooksAMillion.com, YBP Library Services, and Ingram catalog.
Also available in leading digital formats:
Kindle edition, at Amazon.
NOOKBook, at Barnes & Noble.
At Apple iBooks and iTunes: see it on iPad and iPhone bookstores; previewed online here.
And at Google Play and Google Books.
Also in universal ePUB format at Smashwords, and at Kobobooks.
…
Cataloging: OFFICE HOURS: ONE ACADEMIC LIFE
Author: H. N. Hirsch
Series: Journeys & Memoirs
ISBN 978-1-61027-333-6 (pbk)
ISBN 978-1-61027-337-4 (ebook)
ISBN 978-1-61027-338-1 (cloth)
List price: US $8.99 (ebook) / $19.99 (pbk) / $29.99 (cloth)
Page count: 224 pp.
Published: Jan. 4, 2016