Connecticut judge David Lawson is a decorated veteran of Iraq, now thrust onto the national stage when the press learns he's up for an unexpected vacancy on the U.S. Supreme Court.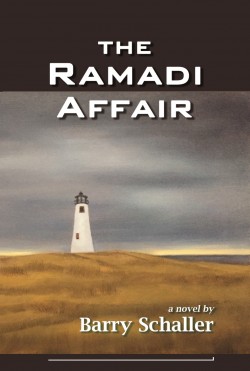 Despite his successful career and his loyal political team of friends who understand Supreme Court politics, David is haunted by tragedies—from his early life and in combat. Secrets threaten his nomination and call into question his moral judgment—dark secrets pushed to the outer reaches of his mind, two decades after he fought in Ramadi. Now his rampaging platoon sergeant faces trial for murder, threatening to unearth the past. Cornered, David is forced to relive his most painful nightmares and examine both his integrity and his relationships. But while war is the severest test of moral strength, secrets can erode the hardiest of souls.
"The Ramadi Affair is a gripping story that effectively weaves together the conflicts in David Lawson's present life with the anguish of his military service in Iraq. Barry Schaller has written a lightning paced novel that will keep you up late at night turning pages."
—Allan Topol, national bestselling author of The Washington Lawyer
"Barry Schaller transports the reader with equal skill from the war-torn villages of Iraq to the highest halls of justice. A legal-thriller and contemporary war-novel in one, The Ramadi Affair is nearly impossible to put down."
—Dan Pope, author of Housebreaking

"It's about time someone wrote a novel that addresses the psychological consequences of our nation's recent adventures in Iraq. In this gripping tale, Schaller introduces us to a war veteran who returns home to a career of great promise, only to be betrayed by the 'moral injury' he suffered in the fight. Like so much of our greatest war literature, The Ramadi Affair is a fiction that rests on a disturbing truth."
—Todd Brewster, bestselling author of The Century and Lincoln's Gamble
Paperback edition available at Amazon.com, our QP eStore (fulfilled securely by Amazon), Barnes & Noble, BooksAMillion, YBP Library Services, Ingram, and other booksellers.
…
Ebook edition available in all leading formats:
Amazon for Kindle.
Barnes & Noble for Nook.
Google for Google Play, and more generally at Google Books.
Apple iTunes and iBooks, direct on iPad and iPhone. Preview online here.
And at Smashwords in universal ePUB format; and look for it at Kobobooks, Axis360, Scribd, and other sites.
…
CATALOGING: The Ramadi Affair, by Barry Schaller
ISBN 9781610273442 (hardback) | list price $29.99
ISBN 9781610273329 (paperback) | list price $19.99
ISBN 9781610273305 (eBook) | list price $8.99
Page count: 324 pp.
Publication date: Jan. 5, 2016