The New England Law Review offers its issues in convenient digital formats for e-reader devices, apps, pads, and phones. This 4th issue of Volume 49 (Sum. 2015) features an extensive and important Symposium entitled "What Stays in Vegas," presented by leading scholars on the subject of privacy and big data. Contents include:
* "Legal Questions Raised by the Widespread Aggregation of Personal Data," by Adam Tanner
* "What Stays in Vegas: The Road to 'Zero Privacy,'" by David Abrams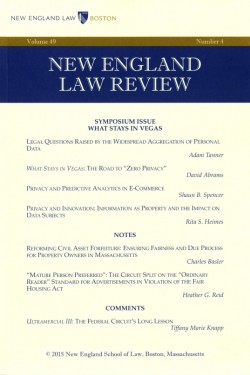 * "Privacy and Predictive Analytics in E-Commerce," by Shaun B. Spencer
* "Privacy and Innovation: Information as Property and the Impact on Data Subjects," by Rita S. Heimes
In addition, Issue 4 includes these extensive student contributions:
* Note, "Reforming Civil Asset Forfeiture: Ensuring Fairness and Due Process for Property Owners in Massachusetts," by Charles Basler
* Note, "'Mature Person Preferred': The Circuit Split on the 'Ordinary Reader' Standard for Advertisements in Violation of the Fair Housing Act," by Heather G. Reid
* Comment, "Ultramercial III: The Federal Circuit's Long Lesson," by Tiffany Marie Knapp
…
Available in all leading eBook formats:
Amazon for Kindle.
Barnes & Noble for Nook.
At Apple iBooks and iTunes bookstore (as previewed).
At Google Play app on Nexus and similar devices, and at Google Books.
And at Smashwords in universal ePUB format. Look for it, too, at Kobobooks, Axis360, Oyster, and other ebookstores and libraries.
…
Cataloging:
ISBN 978-1-61027-818-8 (eBook edition)
List price: US $.99
Page count: 152 pp.