This January 2016 issue of the Yale Law Journal features articles and essays by notable scholars, as well as extensive student research. Contents include:
• Article, "Corporate Control and Idiosyncratic Vision," by Zohar Goshen & Assaf Hamdani
• Essay, "The Domestic Analogy Revisited: Hobbes on International Order," by David Singh Grewal
• Note, "Repairing the Irreparable: Revisiting the Federalism Decisions of the Burger Court," by David Scott Louk
• Note, "Reconciling the Crime of Aggression and Complementarity: Unaddressed Tensions and a Way Forward," by Julie Veroff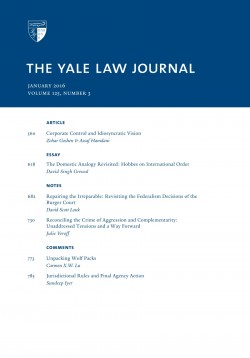 • Comment, "Unpacking Wolf Packs," by Carmen X.W. Lu
• Comment, "Jurisdictional Rules and Final Agency Action," by Sundeep Iyer
This is the third issue of Volume 125, academic year 2015-2016.
Available at leading ebook sites:
Amazon for Kindle.
Barnes & Noble for Nook.
Google for Google Play app and Nexus or Android devices, as well as Google Books.
Apple iTunes and iBooks, found direct on the iPad and iPhone (preview).
And in ePUB format at Smashwords; look for it, too, at Kobobooks for the Kobo Reader, and such ebook sites as Axis360 and Oyster.
…
Cataloging:
ISBN 978-1-61027-819-5 (eBook)
Page count: 242 pp.; list price: US $0.99