The February 2016 issue, Number 4, features these contents:
* Article, "Constitutional Bad Faith," by David E. Pozen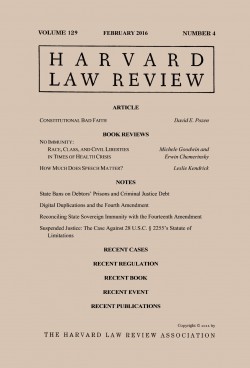 * Book Review, "No Immunity: Race, Class, and Civil Liberties in Times of Health Crisis," by Michele Goodwin & Erwin Chemerinsky
* Book Review, "How Much Does Speech Matter?," by Leslie Kendrick
* Note, "State Bans on Debtors' Prisons and Criminal Justice Debt"
* Note, "Digital Duplications and the Fourth Amendment"
* Note, "Reconciling State Sovereign Immunity with the Fourteenth Amendment"
* Note, "Suspended Justice: The Case Against 28 U.S.C. 2255's Statute of Limitations"
In addition, student commentary analyzes Recent Cases on the exclusionary rule in knock-and-announce violations; FTC regulation of data security; voting rights, disparate impact, and the Texas voter ID law; and fair labor, 'primary beneficiary,' and unpaid interns. The issue includes analysis of Recent Regulations on Dodd-Frank and mandatory pay disclosure; and on Clean Air Act regulation of carbon emissions from existing power plants. Also included are a Recent Event comment on the killing of a non-university-affiliate by campus police and a Recent Book comment on Richard McAdams' 2015 book The Expressive Powers of Law. Finally, the issue includes several brief comments on Recent Publications.
The Harvard Law Review is offered in a quality digital edition, featuring active Contents, linked footnotes, active URLs, legible tables, and proper ebook and Bluebook formatting. The Review is a student-run organization whose primary purpose is to publish a journal of legal scholarship. It comes out monthly from November through June and has roughly 2500 pages per volume. Student editors make all editorial and organizational decisions. This is the fourth issue of academic year 2015-2016.
Available in all leading eBook formats:
Amazon for Kindle.
Barnes & Noble for Nook.
Apple iBooks and iTunes bookstore (as previewed).
At Google Play app on Nexus and similar devices, and at Google Books.
And at Smashwords in universal ePUB format. Look for it, too, at Kobobooks, Axis360, Scribd, and other ebookstores and libraries.
…
Cataloging:
ISBN 978-1-61027-814-0 (eBook edition)
List price: US $3.99
Page count: 306 pp.