Confident at work but clueless at love, Claire is 40 and overweight—not a recipe she imagines can solve the romance gap. Dealing with her father's death and an angry teen doesn't make it easier. Finding no help from her ex, who is distracted by remarriage to a much younger woman, Claire copes by relying on a faithful circle of friends, a wicked sense of humor, and a new interest in fitness. When Claire meets Rob, a beguiling, slightly pudgy man at the gym, there is an instant connection. Just maybe she can haul the composure she finds at work into the gym with her. Or is it fat chance for that?
• • • •
"A funny, moving portrait of a small-town Jewish community and the people who inhabit it, including a single mom coping with loss, a teen, and modern love. You'll be rooting for Orenstein's characters—especially her witty, lovably self-deprecating heroine—the whole way through."
— Jennifer Richler, author of writing appearing in
The New York Times, Slate, Salon,
and
The Atlantic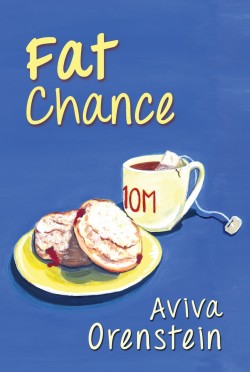 "Fat Chance is an evocative journey that sharpens our contact with what it means to be human. And it is a hilariously loving yet unflinching portrait of a woman imprisoned by the body she thinks isolates her from love and—maybe more important—sex. Orenstein is like a magician pulling pennies from the air, infusing the haunting with laughter, the seeming inescapability with hope, and in the end offers the surprising and poignant gift of a special kind of joy."
— Michael Adams, author of Blind Man's Bluff and Anniversaries in the Blood
• • • •
AVIVA ORENSTEIN is currently a law professor at Indiana University-Bloomington and the author of several nonfiction works on evidence law.
Hardcover edition: available at such booksellers as Amazon.com, Barnes & Noble, BooksAMillion.com, YBP Library Services, and Ingram catalog. (Also at Amazon UK, Amazon Canada, and other country-specific Amazon stores.)
Paperback edition: available at such booksellers as Amazon.com, our QP eStore page (fulfilled securely), Barnes & Noble, BooksAMillion.com, YBP Library Services, and Ingram catalog.
Also available in leading digital formats:
Kindle edition, at Amazon.
NOOKBook, at Barnes & Noble.
At Apple iBooks and iTunes: see it on iPad and iPhone bookstores; previewed online.
And at Google Play and Google Books.
Also in universal ePUB format at Smashwords, and at Kobobooks. See it, too, at such eBook libraries as Axis360, Scribd, etc.
…
Cataloging: FAT CHANCE: A Novel
Author: Aviva Orenstein
ISBN 978-1-61027-340-4 (paperback)
ISBN 978-1-61027-347-3 (eBook)
ISBN 978-1-61027-341-1 (cloth with dustjacket)
ASIN: B01BUAC2UO (Kindle)
List price: US $8.99 (ebk) / $18.99 (pbk) / $29.99 (cloth)
Page count: 230 pp.
Published: Feb. 19, 2016
BOOK CLUBS: See this page for the author's suggested questions and themes for book clubs and classrooms.