The February issue of the Yale Law Journal features articles and essays by notable scholars, as well as extensive student research. The issue is dedicated to the memory of Professor Robert A. Burt, with essays in his honor by Robert Post, Owen Fiss, Monroe Price, Martha Minow, Martin Boehmer, Anthony Kronman, Frank Iacobucci, and Andrew David Burt. In addition, the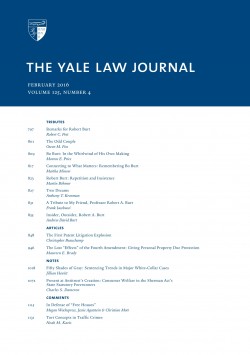 issue's contents include:
• Article, "The First Patent Litigation Explosion," Christopher Beauchamp
• Article, "The Lost 'Effects' of the Fourth Amendment: Giving Personal Property Due Protection," Maureen E. Brady
• Note, "Fifty Shades of Gray: Sentencing Trends in Major White-Collar Cases," Jillian Hewitt
• Note, "Present at Antitrust's Creation: Consumer Welfare in the Sherman Act's State Statutory Forerunners," Charles S. Dameron
• Comment, "In Defense of 'Free Houses,'" Megan Wachspress, Jessie Agatstein, and Christian Mott
• Comment, "Tort Concepts in Traffic Crimes," Noah M. Kazis
This is the fourth issue of academic year 2015-2016.
Available at leading ebook sites:
Amazon for Kindle.
Barnes & Noble for Nook.
Google for Google Play app and Nexus or Android devices, as well as Google Books.
Apple iTunes and iBooks, found direct on the iPad and iPhone (preview).
And in ePUB format at Smashwords; look for it, too, at such ebook sites as Kobobooks for the Kobo Reader, Axis360, and Scribd.
…
Cataloging:
ISBN 978-1-61027-816-4 (eBook)
ASIN B01C9ENZO2 (Kindle)
Page count: 357 pp.; list price: US $0.99