The Harvard Law Review, March 2016, features these contents:
• Article, "Marriage Equality and the New Parenthood," by Douglas NeJaime
• Essay, "Horizontal Shareholding," by Einer Elhauge
• Book Review, "Keeping Track: Surveillance, Control, and the Expansion of the Carceral State," by Kathryne M. Young and Joan Petersilia
• Note, "Constitutional Courts and International Law: Revisiting the Transatlantic Divide"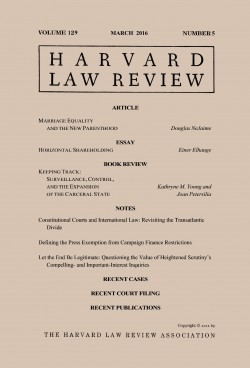 • Note, "Defining the Press Exemption from Campaign Finance Restrictions"
• Note, "Let the End Be Legitimate: Questioning the Value of Heightened Scrutiny's Compelling- and Important-Interest Inquiries"
In addition, student commentary analyzes Recent Cases on state abortion laws and precedent; expectation of privacy in pocket dial; tax deductions for medical marijuana dispensary; appointments clause test for executive branch reassignments; takings by residential inclusionary zoning; and statutory interpretation using corpus linguistics. A commentary focuses on the Recent Court Filing by the DOJ arguing that a city ordinance prohibiting camping and sleeping outdoors violates the Eighth Amendment. Finally, the issue (the fifth of academic year 2015-16) includes two brief comments on Recent Publications.
Available in leading digital formats:
Kindle, at Amazon.
NOOK, at Barnes & Noble.
Apple iBooks and iTunes: see it on iPad and iPhone; previewed online.
And at Google Play and Google Books.
Also in universal ePUB format at Smashwords, and at Kobobooks.
…
Cataloging: Number 5 (March 2016)
ISBN 978-1-61027-817-1 (ePUB)
ASIN B01CR2EC2K (Kindle)
List price: US $3.99 (ebook)
Page count: 305 pp.
Published: Mar. 10, 2016