Warren and Brandeis, "The Right to Privacy," with 2010 Foreword. Includes photos and rare news clippings.
Part of the Legal Legends Series.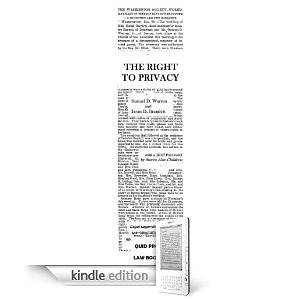 The most influential piece of legal scholarship, many scholars say, is this 1890 Harvard Law Review article by two Boston lawyers (one of whom later became a legendary Supreme Court Justice). Warren and Brandeis essentially created — by cleverly weaving strands of precedent, policy, and logic — the legal concept of privacy and the power of legal protection for that right. Their clear and effective prose stands the test of time, and influenced such modern notions as "inviolate personality" and law's "elasticity." They saw the threat of new technology. Most of all, they asserted the fundamental "right to be let alone," and its implications to modern law are profound. Their privacy concept has grown into raising issues about abortion, drug testing, surveillance, sexual orientation, free speech, the  "right to die," and medical confidentiality. All these spinoffs trace their origins to this master work. It is simply one of the most significant parts of the modern canon of law, politics, and sociology.
The

new Foreword by Professor Childress shares not only this import and effect, but also the fascinating backstory  behind the article. Its origins are found in Warren's own prickly experiences with the press, famously after its reports on his family weddings. Includes biographical summaries of the authors.
For the Kindle edition for Kindle and its apps on various devices, see the BUY information button at top right.  Or just click on the link to its Kindle page.  Ebook also available for Nook from Barnes & Noble. And see it in multiple digital formats at Smashwords, plus ebookstores like Sony store and Kobobooks.
Plus there is an affordable

paperback

edition, shown above; you can order that from Amazon at the paper-version's webpage.  Also sold at Barnes & Noble here.  And sold directly from our eStore page here.
NEW 2015 HARDBACK edition ALSO AVAILABLE (published Feb. 9, 2015), at such retailers as noted above, Ingram, YBP, Barnes & Noble, BooksAMillion, and Amazon.com.
…
ISBN (ePUB and ebooks, 2010): 978-1-4580-5532-3 (list price $1.99)
ISBN (hardback, 2015 printing):  978-1-61027-840-9 (list price $19.99)
ISBN (original paperback printing, 2010): 978-1452819242 (list price $10.99)