This issue of the Yale Law Journal (the fifth issue of academic year 2015-2016) features articles and essays by notable scholars, as well as extensive student research. Contents include:
• "Governance Reform and the Judicial Role in Municipal Bankruptcy," by Clayton P. Gillette & David A. Skeel, Jr.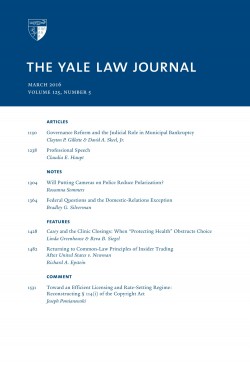 • "Professional Speech," by Claudia E. Haupt
• "Casey and the Clinic Closings: When 'Protecting Health' Obstructs Choice," by Linda Greenhouse & Reva B. Siegel
• "Returning to Common-Law Principles of Insider Trading After United States v. Newman," by Richard A. Epstein
The student contributions are:
• Note, "Will Putting Cameras on Police Reduce Polarization?," by Roseanna Sommers
• Note, "Federal Questions and the Domestic-Relations Exception," by Bradley G. Silverman
• Comment, "Toward an Efficient Licensing and Rate-Setting Regime: Reconstructing § 114(i) of the Copyright Act," by Joseph Pomianowski
. . .
Available at leading ebook sites:
Amazon for Kindle.
Barnes & Noble for Nook.
Google for Google Play app, as well as Google Books.
Apple iTunes and iBooks, found direct on the iPad and iPhone (preview).
And in ePUB format at Smashwords; look for it, too, at such ebook sites as Kobobooks for the Kobo Reader, Axis360, and Scribd.
…
Cataloging:
ISBN 978-1-61027-800-3 (eBook)
ASIN B01DN86GP8 (Kindle)
Page count: 405 pp.; list price: US $0.99