This issue of the Yale Law Journal (the sixth issue of academic year 2015-2016) features articles and essays by notable scholars, as well as extensive student research. The issue's contents include:
• Article, "Administrative Forbearance," by Daniel T. Deacon
• Essay, "The New Public," by Sarah A. Seo
The student contributions are:
• Note, "How To Trim a Christmas Tree: Beyond Severability and Inseverability for Omnibus Statutes," by Robert L. Nightingale
• Note, "Border Checkpoints and Substantive Due Process: Abortion in the Border Zone," by Kate Huddleston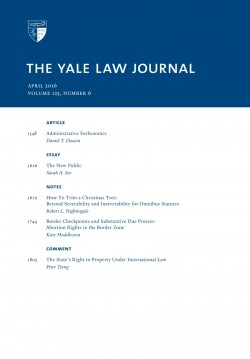 • Comment, "The State's Right to Property Under International Law," by Peter Tzeng
. . .
Available at leading ebook sites:
Amazon for Kindle.
Barnes & Noble for Nook.
Google for Google Play app, as well as Google Books.
Apple iTunes and iBooks, found direct on the iPad and iPhone (preview).
And in ePUB format at Smashwords; look for it, too, at such eBook sites as Kobobooks for the Kobo Reader, Axis360, and Scribd.
…
Cataloging:
ISBN 978-1-61027-794-5 (eBook)
ASIN B01EZ8V6VE  (Kindle)
Page count: 279 pp.; list price: US $0.99