The May 2016 issue, Number 7, features these contents:
• Article, "The Positive Law Model of the Fourth Amendment," by William Baude and James Y. Stern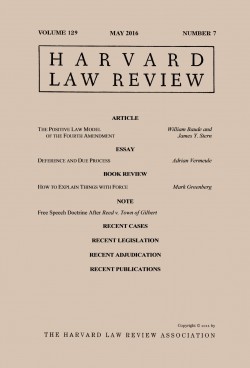 • Essay, "Deference and Due Process," by Adrian Vermeule
• Book Review, "How to Explain Things with Force," by Mark Greenberg
• Note, "Free Speech Doctrine After Reed v. Town of Gilbert"
Furthermore, student commentary analyzes Recent Cases on the Affordable Care Act and the origination clause; statutory interpretation and the Video Privacy Protection Act; and commercial speech doctrine and the FDA's power to prosecute non-misleading statements after modifying text. Other commentary examines South Carolina's legislative effort to to disqualify companies who support BDS from receiving state contracts; and the NLRB's adjudicative ruling to classify canvassers as employees, not independent contractors. Finally, the issue includes several brief comments on Recent Publications.
…
Available at leading ebook sites:
Amazon for Kindle.
Barnes & Noble for Nook.
Google for Google Play app, as well as Google Books.
Apple iTunes and iBooks, found direct on the iPad and iPhone (preview).
And in ePUB format at Smashwords; look for it, too, at such ebook sites as Kobobooks for the Kobo Reader, Axis360, and Scribd.
…
Cataloging:
ISBN 978-1-61027-802-7 (eBook)
ASIN  B01F7FVWPO (Kindle)
Page count: 233 pp.; list price: US $3.99
Released: May 10, 2016