Journey through a series of short stories based on real life experiences: soul searching, humorous, and all with the primary goal of promoting Christ. This devotional will take you through all four seasons of the year. You will be encouraged and filled with His hope as you read and grow in your faith.
"What an amazing blessing to pull up a chair and join Cindy Childress at her kitchen table. Literally, as our families have enjoyed fellowship, and now figuratively through the pages of this devotional. I couldn't help but read from story to story, spiritual truth to spiritual truth; presented in such a way as to think she and I were talking over coffee. You'll appreciate Cindy's ability to share her life with winsome clarity and steady humor. Prepare to be infused with hope and encouraged by God's Word as it applies to the stories of our lives." — Eric Willis, Pastor of Networking Churches & Minister Development at Bent Tree Bible Fellowship and author of Breathing Space: A Respite for Ministry Leaders
"You are in for a treat! Cindy Childress is a beautiful woman of God, so passionate about prayer and reading God's W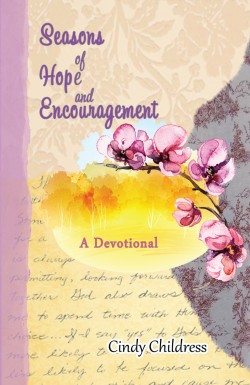 ord. As she shares from her heart — with a side of Southern charm — your faith will be strengthened." — Kim Stewart, of Kim Stewart Social Media Marketing
"Cindy Childress shares her heart and soul with words inspired only by the Holy Spirit. This collection of deeply personal, intimate devotions is a treasure trove of insight and wisdom that comforts and encourages as we journey through the unpredictable seasons of our lives." — Bonnie Banker, Senior Manager, Joni and Friends Texas
Available in ebook and print formats:
Available in paperback, from Amazon.com; our eStore with fulfillment by Amazon; at Barnes & Noble; at BAM!; through YBP Library Services and Ingram; and at other booksellers.
Library-quality hardcover edition also available from Amazon; from Barnes & Noble; from BAM!; from many other retailers; and in the Ingram catalog and at YBP Library Services and Midwest Library Service (library and bookstore catalogs).
Amazon for Kindle.
Barnes & Noble for Nook.
Apple iBooks and iTunes for iPad and iPhone (previewed).
At Google Play app and at Google Books.
And in universal ePUB at Smashwords; look for it, too, at Kobobooks, Axis360, Scribd, and other ebook sites.
Please contact us  at info [at] quidprobooks [dot] com, for discounts on bulk adoptions of paperback or hardcover editions.
CATALOGING:
ISBN 9781610273497 (ebook) | list price $7.99
ISBN 9781610273480 (paperback) | list price $16.99
ISBN 9781610273466 (hardcover) | list price $27.99
Page count: 190 pp.
Published: May 27, 2016