Now in a readily available, modern presentation, and adding a substantive 2016 Foreword by Lee Epstein and Jack Knight, this classic of law and political science is presented to a new generation of thoughtful observers of the U.S. Supreme Court and how its justices create judicial decisions. As Epstein and Knight write, this book is "extraordinary. It's the rarest of rare: a breakthrough of the path-marking, even paradigm-shifting, variety…." Its publication offered a "huge conceptual breakthrough. Elements was the first to offer a strategic account" of judging, and its "framework forever changed the study of judicial behavior." It remains influential to current thought, extending even in its "global reach," and is an important part of modern social sciences and law.
First outlining the sources and instruments—and limitations—of judicial power, the author then shows how policy-oriented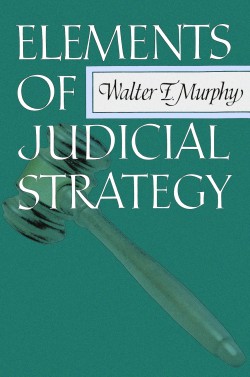 justices might take advantage of their power positions to maximize their impact on the formation and execution of public policy. In this book Walter F. Murphy attempts to understand how, under the limitations which the American legal and political systems impose, Supreme Court justices can legitimately act to further their policy objectives. Murphy also considers ethical issues raised by the model of judicial decision-making he describes. Throughout, systematic analysis is supported by prodigious research and fascinating real-world examples over the years and in very different judicial administrations.
The new eBook edition of this foundational work features quality digital formatting, active Contents, linked footnotes and endnotes, and fully linked tables of cases and subject-matter index. The print editions also embed the original pagination, offering continuity in referencing and course assignment, and for the convenience of readers and researchers. These new print formats include legible typeface and modern design, making this classic work easier to read than ever—and easy to cite.
…
New hardcover edition available at Amazon.com, Barnes & Noble, BooksAMillion, YBP, Ingram, and other booksellers.
…
Ebook edition available in all leading formats:
…
Amazon for Kindle.
Barnes & Noble for Nook.
Google for Google Play, and more generally at Google Books.
Apple iTunes and iBooks, direct on iPad and iPhone. Preview online.
And at Smashwords in universal ePUB format; and look for it in ePUB at Kobobooks and other ebookstores.
…
CATALOGING: Elements of Judicial Strategy, by Walter F. Murphy
ISBN 9781610273565 (paperback) | list price: $29.99
ISBN 9781610273534 (hardback) | list price: $44.99
ISBN 9781610273541 (eBook) | list price: $9.99
ASIN B01GJ3KP2E (Kindle eBook) | list price $9.99
Page count: 256 pp.
Publication date: July 15, 2016