Corporations have legal rights, and so do many other large-scale organizations. But what does it mean to ascribe rights and "personhood" to such entities, and what is the rationale for doing so? These are central questions for an organizational society such as ours, and yet they have received consistently little attention in modern political and legal thought. The surface metaphor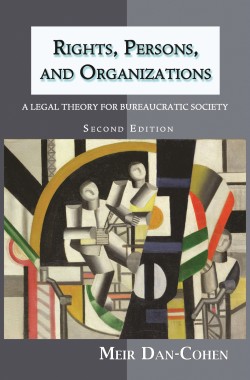 of treating corporations as persons with "rights" carries profound consequences — sometimes even reducing individual freedoms in light of the organization's status. Especially after such recent Supreme Court decisions as Citizens United, this effect is as acute today as when this book was first written. Now in its Second Edition, Rights, Persons, and Organizations remains an essential part of any analysis of organizations and their place in the state, fair dispute processing,  and real people's rights. The study is penetrating and provocative, and is offered to a new generation reconsidering the place of organizations in complex societies.
From the First Edition:
"Dan-Cohen addresses an urgent issue — the competence of our legal ideas to handle the social reality of large-scale organizations…. The result is a closely reasoned argument for treating organizations as instruments rather than as persons…. Everyone interested in the modern 'organizational society' should be familiar with this lucid and sophisticated work."
— Philip Selznick, Professor of Law and Sociology, University of California, Berkeley
"The growing power of organizations is one of the most striking features of our lives. Meir Dan-Cohen, indicting both law and moral philosophy for failing to give bureaucracies their due, has analyzed the gaps this oversight has left in societal arrangements and philosophic orientation. It is an impressive and comprehensive job."
— Christopher Stone, Roy P. Crocker Professor of Law, University of Southern California
"Dan-Cohen employs the tools of economics, sociology, law, and philosophy to formulate a useful and insightful account of the moral and legal status of organizations. This is a book lawyers, economists, sociologists, and philosophers will certainly learn from, and one they should be anxious to read."
— Jules L. Coleman, Professor of Law and Philosophy, Yale University
…
Meir Dan-Cohen holds the Milo Reese Robbins Chair in Legal Ethics at the University of California, Berkeley.
…
Hardcover
edition available at such sites as
Amazon
,
Barnes & Noble
,
BooksAMillion
, YBP Library Services, and Ingram. 
Paperback
at
Amazon
,
B&N
,
BooksAMillion
, YBP, Ingram, etc., and at our
eStore page
(fulfilled by Amazon).
…
Also available at all leading eBook sites:
Amazon for Kindle.
Barnes & Noble for Nook.
Google for Google Play, as well as Google Books.
Apple iTunes and iBooks, found direct on the iPad and iPhone (preview).
And in ePUB format at Smashwords; look for it, too, at such eBook sites as Kobobooks for the Kobo Reader, Axis360, and Scribd.
…
Cataloging RIGHTS, PERSONS, AND ORGANIZATIONS (2d ed.) by Meir Dan-Cohen:
ISBN 978-1-61027-334-3 (paperback)
ISBN 978-1-61027-351-0 (hardcover)
ASIN B01H5VBY7O  (Kindle)
ISBN 978-1-61027-335-0 (eBook)
Page count: 262 pp.; list price US: $9.99 (eBook); $32.99 (pbk); $46.99 (hc)