This issue of the Yale Law Journal includes: • Article, "The President's Budget as a Source of Agency Policy Control," Eloise Pasachoff; • Article, "Foundling Fathers: (Non-)Marriage and Parental Rights in the Age of Equality," Serena Mayeri; and • Feature, "The Constitutionality of Civil Forfeiture," Caleb Nelson.
The student research contributions are: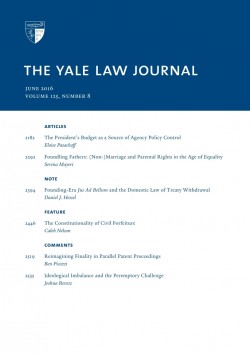 • Note, "Founding-Era Jus Ad Bellum and the Domestic Law of Treaty Withdrawal," Daniel J. Hessel; • Comment, "Reimagining Finality in Parallel Patent Proceedings," Ben Picozzi; and • Comment, "Ideological Imbalance and the Peremptory Challenge," Joshua Revesz.
This is the 8th and final issue of academic year 2015-2016. Quality formatting includes linked notes and an active Table of Contents (including linked Contents for individual articles), as well as active URLs in footnotes and proper Bluebook style.
. . .
Available at leading ebook sites:
Amazon for Kindle.
Barnes & Noble for Nook.
Google for Google Play, as well as Google Books.
Apple iTunes and iBooks, found direct on the iPad and iPhone (preview).
And in ePUB format at Smashwords; look for it, too, at such eBook sites as Kobobooks for the Kobo Reader, Axis360, and Scribd.
…
Cataloging Vol. 125, No. 8:
ISBN 9781610277815 (eBook)
ASIN B01ISH9GO2 (Kindle)
Page count: 380 pp.; list price: $.99