Frank May practices law in San Mateo, California. Much of his practice deals with estate planning—wills, trusts, and related matters. So dead people are very much on his mind and the mind of his clients. But not, for the most part, unnatural deaths. Yet mysterious deaths, for some odd reason, seem to creep inevitably into his practice.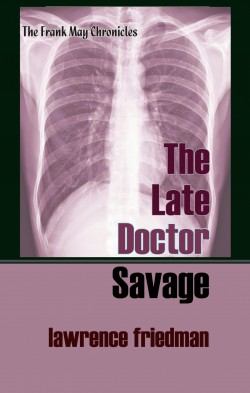 A young woman, Ashley Savage, is Frank's newest client. Her birth father, whom she never met and who played no role in her upbringing, has suddenly entered her life—though very indirectly. He's created a trust for her, worth millions of dollars but whose origins are, to say the least, questionable. Dr. Langley Savage, Ashley's absentee father, had ministered for years to a wealthy senior citizen, Hortense Risley, who spent those last years in a hospital suite, all the time lavishing gifts on Dr. Savage.All this to the detriment of Hortense's four grandchildren, her closest relatives. Then Dr. Savage turns up dead—shot in a hotel room in Palo Alto. And one of the grandchildren, Bobby Risley, claims to have fallen in love with Ashley Savage … sight unseen.
As Ashley Savage's lawyer, Frank May is reluctantly drawn into the mystery that surrounds the death of Langley Savage—a mystery with many surprising twists and turns.
A new QP Mystery, in the series The Frank May Chronicles. See others in the series here. See this story in Palo Alto Weekly about Lawrence Friedman's fiction writing, Quid Pro Books, and the Frank May series.
Available in paperback: See it at Amazon.com, our QP eStore page for this book (fulfilled securely by Amazon), Barnes & Noble online, BooksAMillion, YBP Library Services, and Ingram.
Also available in leading eBook editions:
Amazon for Kindle.
Barnes & Noble for Nook.
Apple iBooks and iTunes bookstore, direct on iPad and iPhone (previewed online).
At Google Play, and more generally Google Books, as are all of Professor Friedman's previous titles.
Also in universal ePUB format at Smashwords. Look for it, too, in ePUB at Kobobooks, Axis360, Oyster, and other online sites.
…
CATALOGING:
ISBN 9781610273664 (pbk.); list price $16.99
ISBN 9781610273671 (ePUB); list price $5.99
ASIN B01LZULR03 (Kindle); list price $5.99
Page count: 210 pp.