The November issue is the special annual review of the U.S. Supreme Court's previous Term. The issue also includes an In Memoriam section honoring the memory of Justice Antonin Scalia. Contributors include Chief Justice John Roberts, Jr. and Associate Justices Ruth Bader Ginsburg and Elena Kagan, as well as Cass Sunstein, Martha Minow, John Manning, and Rachel Barkow. Each year, the Supreme Court issue is introduced by noteworthy and extensive contributions from recognized scholars. In this issue, for the 2015 Term, articles include:
• Foreword: "Looking for Power in Public Law," by Daryl J. Levinson
• Essay: "The Age of Scalia," by Jamal Greene
• Comment: "Fisher's Cautionary Tale and the Urgent Need for Equal Access to an Excellent Education," by Kimberly Jenkins Robinson
• Comment: "Gridlock," by Josh Blackman
In addition, the first issue of each new volume provides an extensive summary of the important cases of the previous Supreme Court docket, covering a wide range of legal, political, and constitutional subjects. Student commentary is thus provided on Leading Cases of the 2015 Term, including such subjects as separation of powers, freedom of speech, exclusionary rule, right to counsel, equal protection, jurisdiction, mandatory arbitration, abortion rights, corruption statutes, immigration law, and Title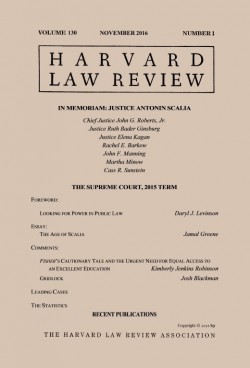 VII. Complete statistical graphs and tables of the Court's actions and results during the Term are included; these summaries and statistics, including voting patterns of individual Justices, have long been considered very useful to scholars of the Court in law and political science. The issue includes a linked Index of Cases and citations for the discussed opinions. Finally, the issue features several summaries of Recent Publications
The Harvard Law Review is offered in a quality digital edition, featuring active Contents, linked footnotes, active URLs, legible graphics from the original, and proper ebook and Bluebook formatting. This is the first issue of academic year 2016-2017. Quid Pro Books is the ebook publisher of the Review, since 2011, and back issues are found here.
…
Available in all leading eBook formats:
Google for Google Play, as well as Google Books.
Apple iTunes and iBooks, found direct on the iPad and iPhone (preview).
And in ePUB format at Smashwords; look for it, too, at such ebook sites as Kobobooks for the Kobo Reader, Axis360, and Scribd.
…
Cataloging Issue Number 1:
ISBN 978-1-61027-786-0 (eBook)
ASIN  B01N8XY4TB (Kindle)
Page count: 529 pp.; list price: US $3.99
Released and available: Nov. 10, 2016