The December 2016 issue, Number 2, features these contents:
* Article, "Constitutionally Forbidden Legislative Intent," by Richard H. Fallon, Jr.
* Article, "Deal Process Design in Management Buyouts," by Guhan Subramanian
* Book Review, "Law and Moral Dilemmas," by Bert I. Huang
* Note, "Charming Betsy and the Intellectual Property Provisions of Trade Agreements"
* Note, "Political Questions, Public Rights, and Sovereign Immunity"
Furthermore, student commentary analyzes Recent Cases on equitable relief from a foreign judgment under RICO, mootness after a 2014 Missouri election, compelling an internet service provider to produce data stored overseas, immunity for failure-to-warn claims under the Communications Decency Act, whether the federal cannabis prohibition is a "substantial burden" under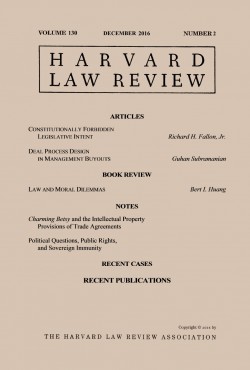 the Religious Freedom Restoration Act, reasonableness of sentencing under the Guidelines after using a jury poll, and whether two-way video testimony violates the Confrontation Clause of the U.S. Constitution's Sixth Amendment. Finally, the issue includes several brief comments on Recent Publications.
The Harvard Law Review is offered in a quality digital edition, featuring active Contents, linked footnotes, active URLs, legible tables, and proper ebook and Bluebook formatting. The Review is a student-run organization whose primary purpose is to publish a journal of legal scholarship. It comes out monthly from November through June and has roughly 2500 pages per volume. Student editors make all editorial and organizational decisions. This is the second issue of academic year 2016-2017.
Quid Pro Books is the ebook publisher of the Review, since 2011, and back issues are found here.
…
Available in all leading eBook formats:
Amazon for Kindle.
Barnes & Noble for Nook.
Google for Play, as well as Google Books.
Apple iTunes and iBooks, found direct on the iPad and iPhone (preview).
And in ePUB format at Smashwords; look for it, too, at such ebook sites as Kobobooks for the Kobo Reader, Axis360, and Scribd.
…
Cataloging Issue Number 2:
ISBN 978-1-61027-787-7 (eBook)
ASIN  B01N6DKW4W (Kindle)
Page count: 293 pp.; list price: US $3.99
Released and available: Dec. 9, 2016