Antonin Artaud (1896-1948) conceived and inaugurated the Theater of Cruelty, a dramatic movement that has had a profound influence on the avant garde theater in Europe and the United States. The movement is exemplified by the Peter Brook production of Marat/Sade. This book, the first to analyze Artaud's theories, their sources, and the extent to which he succeeded in implementing them in his own plays, is now available in a 2017 digital edition and new printings, readily accessible to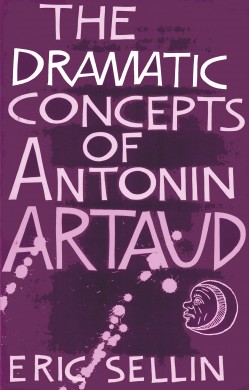 scholars and interested fans of literary criticism and the modern theater worldwide. The new editions add a thoughtful Foreword by Professor Peter Thompson of Roger Williams University.
This sophisticated study will be essential reading for all scholars interested in modern French literature and the evolution of twentieth-century drama, for the many devotees of avant-garde theater, and for those who have felt puzzled by the superficiality of much contemporary drama.
Originally published by The University of Chicago Press, the book is brought to a new generation by Quid Pro Books, in new paperback, hardback, and digital editions. Quality eBook features include proper formatting, linked table of contents and footnotes, the original edition's extensive bibliography and its illustrations, and even a fully linked subject-matter index. The print version embeds the pagination of prior editions, for continuity of citation and classroom assignment.
…
Paperback edition now available at Amazon.com, our QP eStore page for this book, Barnes & Noble, BooksAMillion, Powell's, Ingram catalog, YBP Library Services, and other booksellers.
Hardback edition available at Amazon, Barnes & Noble, BooksAMillion, Ingram, YBP, etc.
eBook edition available in all leading formats:
Amazon for Kindle.
Barnes & Noble for Nook.
Google for Play, and more generally at Google Books.
Apple iTunes and iBooks (previewed online).
And in ePUB at Smashwords. Also found at Kobobooks, Scribd, Axis360, and many other ebookstores.
…
CATALOGING: The Dramatic Concepts of Antonin Artaud
Author: Eric Sellin
ISBN: 9781610273718 (pbk.)
ISBN: 9781610273756 (hbk.)
ISBN: 9781610273701 (ePUB)
ASIN: B01NCN85C9 (Kindle)
Page count: 180 pp.
Publication date: Feb. 10, 2017
List price (ebook): US $8.99
List price (pbk.): $29.99
List price (hbk.): $39.99