The February 2017 issue, Number 4, features these contents:
• Article, William Baude & Stephen E. Sachs, "The Law of Interpretation"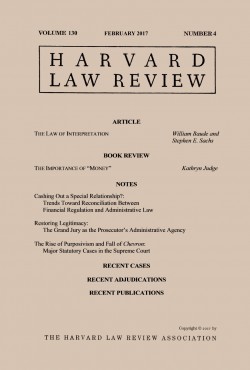 • Book Review, Kathryn Judge, "The Importance of 'Money'"
• Note, "Cashing Out a Special Relationship?: Trends Toward Reconciliation Between Financial Regulation and Administrative Law"
• Note, "Restoring Legitimacy: The Grand Jury as the Prosecutor's Administrative Agency"
• Note, "The Rise of Purposivism and Fall of Chevron: Major Statutory Cases in the Supreme Court"
Furthermore, student commentary analyzes Recent Cases on: abstaining from adjudicating habeas petition of Guantanamo detainee tried by military commission; a Second Circuit ruling that the Terrorism Risk Insurance Act, but not the FSIA, allows recovery against U.S. companies owned by state sponsors of terrorism; whether using another employee's password falls under the Computer Fraud and Abuse Act; and whether government acquisition of historical cell-site location information is a Fourth Amendment search. Two Recent Adjudications are examined, one in which the NLRB ruled that student assistants at private colleges and universities are statutory employees covered by the NLRA, the other under Dodd-Frank, in which the FSOC determined that a General Electric subsidiary is no longer a "systemically important financial institution." Finally, the issue includes several summaries of Recent Publications.
Quid Pro Books is the ebook publisher of the Review, since 2011, and back issues are found here.
…
Available in all leading eBook formats:
Amazon for Kindle.
Barnes & Noble for Nook.
Google for Play, as well as Google Books.
Apple iTunes and iBooks, found direct on the iPad and iPhone (preview).
And in ePUB format at Smashwords; look for it, too, at such eBook sites as Kobobooks for the Kobo Reader, Axis360, and Scribd.
…
Cataloging Issue Number 4:
ISBN 9781610277853 (eBook)
ASIN  B01N4VAS20 (Kindle)
Page count: 230 pp.; list price: US $3.99
Released and available: Feb. 8, 2017