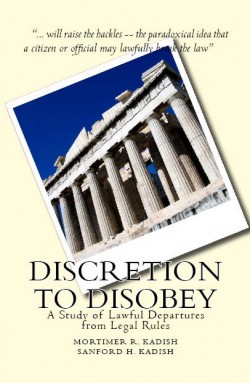 Discretion to Disobey, by philosophy professor Mortimer Kadish and law professor Sanford Kadish, is a truly interdisciplinary inquiry into the idea of departing from the strict letter of the law in a way that, they argue, actually comports with both law and morality.
Buying info at Amazon for Kindle and its free apps. Also sold at Barnes & Noble for Nook.  At Apple iBooks for the iPad and iPhone. Also the Amazon UK store for Kindle.  And at Smashwords (in eight other formats, including Sony, ePub, and PDF); look for it at Kobobooks and Diesel books, too. Now part of Google Books and on Google Play.
Buy it in a new paperback from Amazon and the Quid Pro eStore page, and other booksellers.
An instant classic and source of debate when first published by Stanford University Press in 1973, this book still resonates on questions of rule violations for the greater good, jury nullification, police and prosecutor discretion not to arrest or charge, civil disobedience and the very concept of rules. Both citizens and government actors, they write, have the power and the right to deviate from law in certain contexts and yet not act illegally in a sense, because law itself contains strands of adaptations to its own departures that the authors weave into a sustained jurisprudential point.
This book has become a recognized and still-relevant effort to meet the problem of slow-changing law, sanctioning certain law departures as rightly permitted by law. As one reviewer soon wrote, "the paradoxical idea that a citizen or official may lawfully break the law" will surely "raise the hackles" of any legal positivist. Yet it remains a challenging idea well worth considering. Mortimer Kadish (1916-2010) was a much-published philosophy professor at Case Western, while his brother Sanford became dean at Berkeley's law school and remains an accomplished professor and scholar there. Both have long been recognized in the academic community for their sustained writings on criminal law and morality, and law review issues have been devoted to their scholarship. This book, despite its high reputation in the fields of law and philosophy, is actually accessible to fields and scholars beyond — and to citizens who are finding their rightful place among the powers of governmental institutions.
Part of the Classics of Law & Society Series, this work has active contents and linked footnotes, clear internal cross-references, and proper formatting for digital use. The Series seeks to make digitally available the essential research canon of law and the social sciences, of which this book is decidedly one.
"Coauthored by a lawyer and a philosopher, it has to a very high degree the best of the qualities one would expect from such a collaboration. It sheds new light on important problems in law, sociology, politics, and philosophy, introduces powerful new concepts, and makes important policy suggestions. It draws from its central thesis, by lucid and persuasive argumentation, conclusions of far-reaching significance for the whole of practical philosophy." –Kurt Baier, University of Pennsylvania Law Review.

"A fascinating and useful study of the conditions under which officials and citizens depart from the strict letter of the law." –Morris Kominsky, The Annals.

"Balanced and sensible in argument and eminently clear throughout…. A genuine contribution to legal and political philosophy and worth the serious attention of those interested in some central questions in these fields." –R.J. Rowan, Dialogue.

"This book is important…it propounds a bold answer to a question hitherto largely neglected." –M.B.E. Smith, The Yale Law Journal.
…
CATALOGING:
ISBN 9781452836287 (paperback)
ISBN 9781610279994 (multiformats eBook)
ISBN 9781610279567 (ePUB)